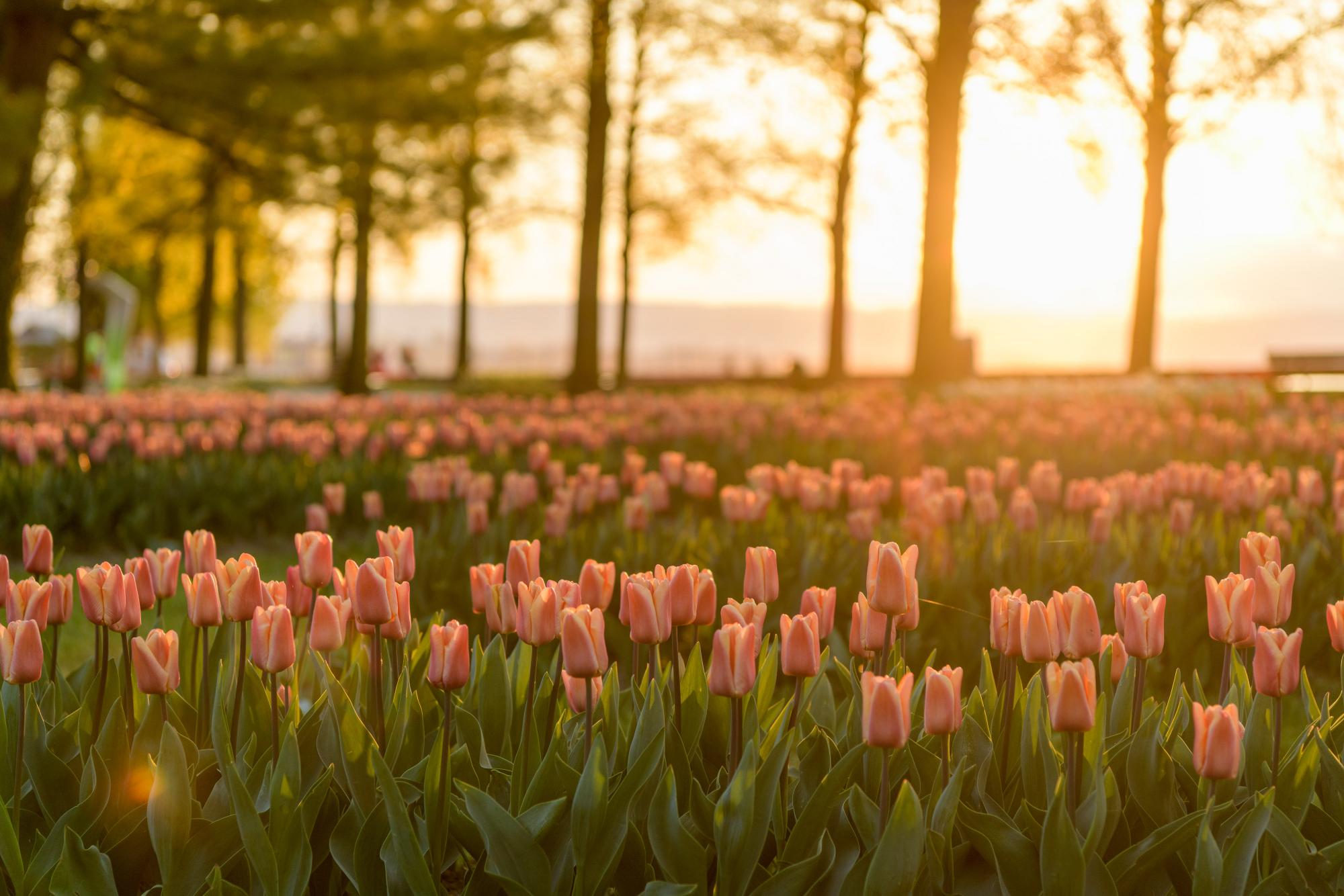 Les floralies
Admire the flowered landscapes in the canton of Vaud with a tiny but very qualified guide…
As soon as it gets warmer, more and more people like to admire the thousand-and-one colors of the spring flowers in the canton of Vaud. These fans of nature have no idea that the multicolored petals aren't there for them but for me!
And who am I, might you ask? A bee, naturally! Plants put on their finery to better attract me and other pollinating insects and animals. By gathering nectar from them one by one, I carry their pollen and ensure their renewal. So I'm well placed to share my selection of the most beautiful flower shows and flowered spaces in the canton of Vaud. Immediate takeoff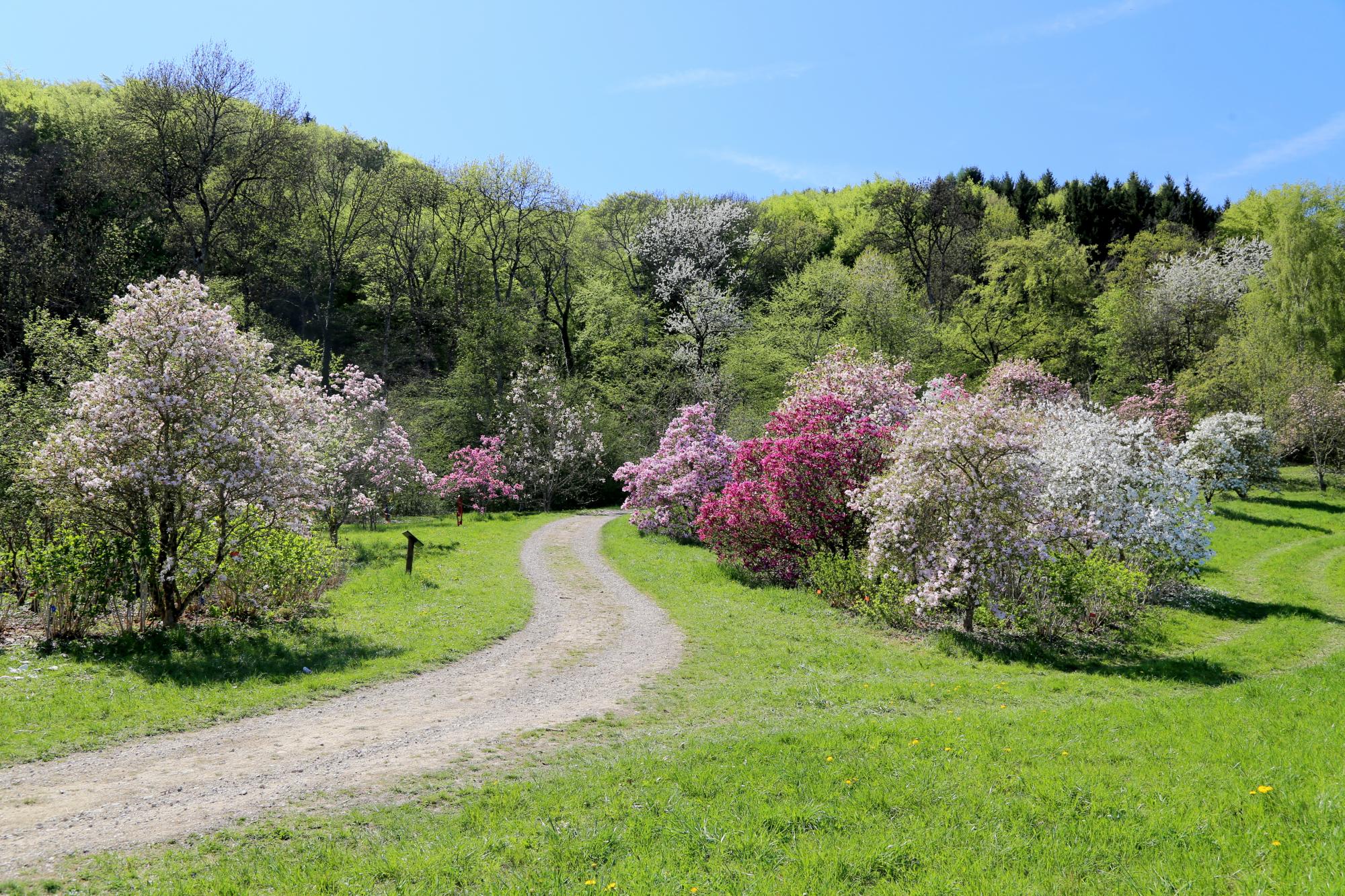 Arboretum du Vallon d'Aubonne - Cherry and Magnolia trees (March to early June)
Above Montreux - on Pléiades, in Glion on Mont-Pélerin, at Avants and in Caux - when the sunrays have melted the snow, a different kind of white coat covers the meadows: narcissi. Beholding so many flowers on wild meadows is a unique spectacle in Switzerland. This view with Lake Geneva and the Alps as a backdrop impresses even tiny ones like me!
Daffodils, the cousins of the narcissus, also cover entire meadows on the hill of Mormont in Eclépens between La Sarraz and Echallens. I'm dazzled by the beautiful yellow and white hues of the narcissi and daffodils. But my pleasure is purely contemplative because these flowers don't provide enough nourishment for me.
Iris Gardens at the Castle of Vullierens, from April to October
The gardens of the castle of Vullierens above Morges are among Switzerland's finest. They are best known for their 400 iris varieties but also have many other flowers on show, something to make us bees happy! This is where we find nectar and pollen during the entire opening season of the gardens, from mid-April to October. Visitors who wish to recreate these flower shows at home can purchase bulbs of iris and lilies, the garden's other flagship variety, which flowers in midsummer. While gathering nectar in the Gardens of Vullierens, I meet strange sculptures, more than fifty of them! And I hear the happy laughter of wine fans who are tasting another kind of nectar - that from the castle's vineyards.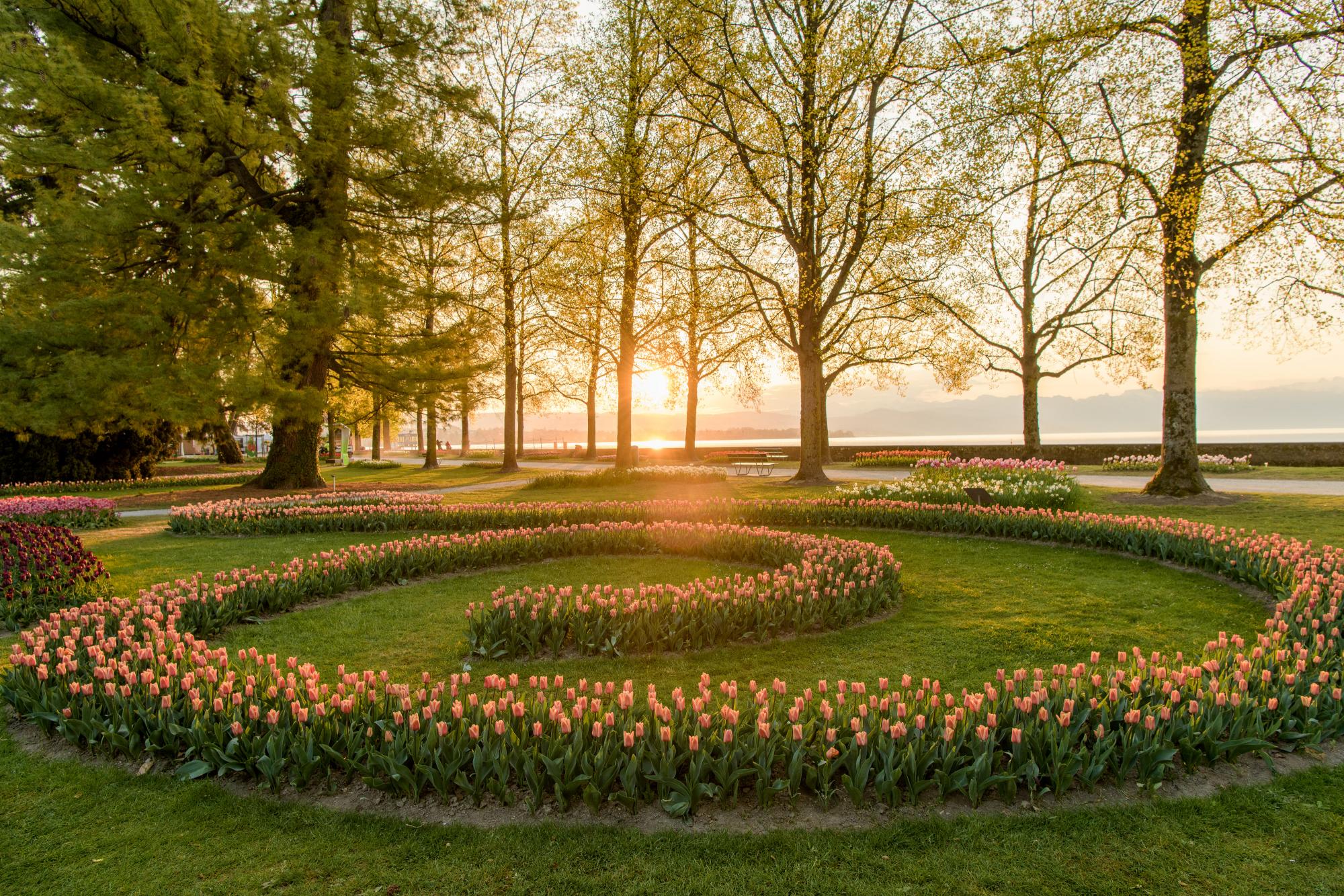 Morges - Tulip Festival (April to mid-May)
Some 2,250 dahlias of all colors and shapes decorate a mile of lakeside promenades along Lake Geneva during a flower show called the Dahlia Festival in Morges. The bees born in spring will unfortunately not live long enough to see more than a hundred varieties of this flower that originated in Mexico. But my fellow bees born in autumn will be able to enjoy their nectar before spending a winter in the warmth of the hive. There, they will be looking after the larvae that will be ready to spread their wings in the following spring!
Lausanne Jardins
Although the city is not always the best of places for us, we don't mind visiting it from time to time. Especially if this excursion takes us to Lausanne, one of Switzerland's greenest cities. This summer, there's a very good reason to fly all the way to the Olympic Capital. One of Europe's largest landscape events, Lausanne Gardens, will be taking up its headquarters in twenty green spaces around the city. Although some of the contemporary and artistic creations don't supply much nectar, there are other, extremely promising flowerbeds.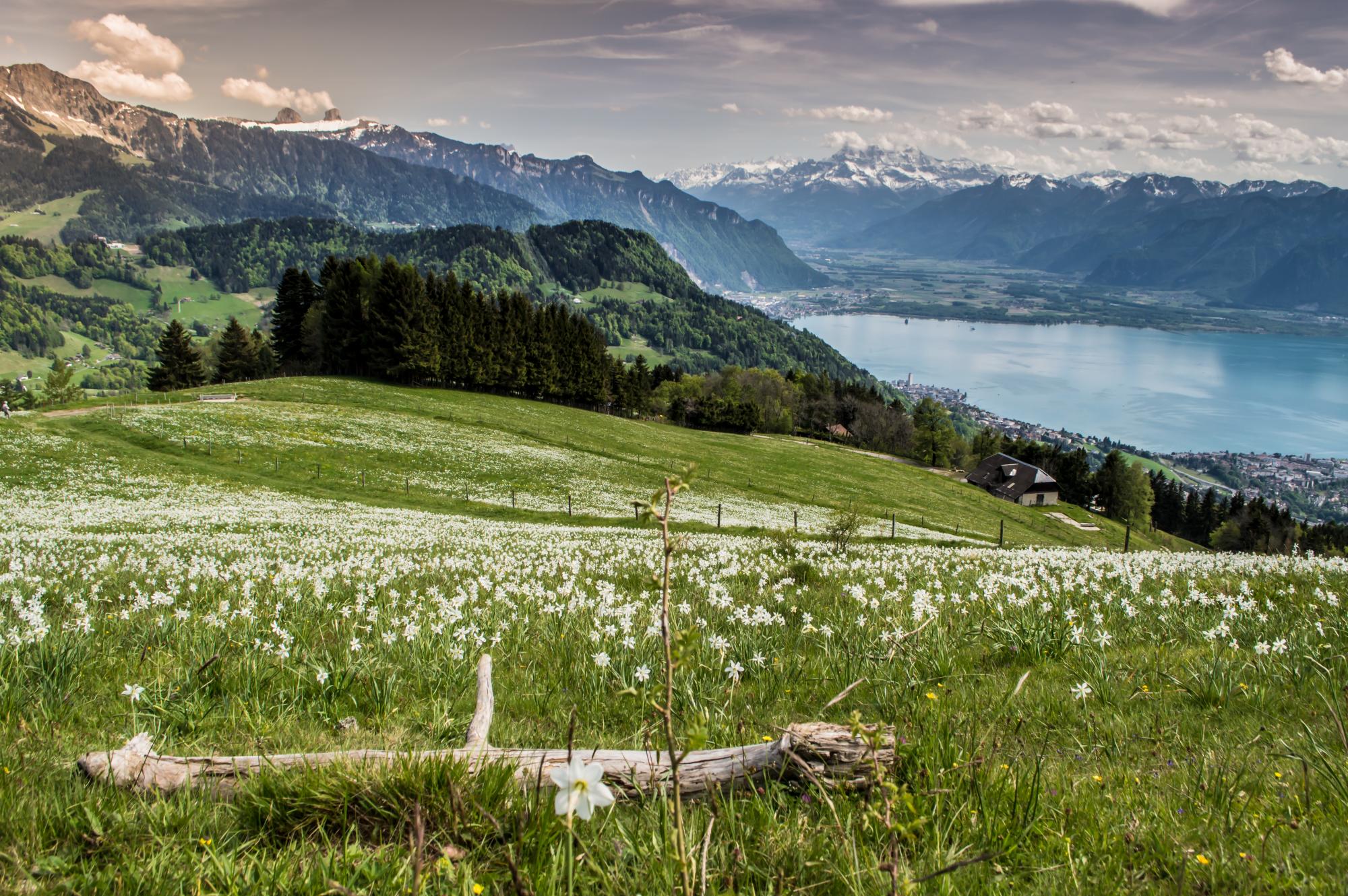 Montreux - Narcisses (April to May)
In the canton of Vaud, you can combine two fun activities during the summer season: hiking and admiring nature and its flowers in several well-preserved sites and on marked paths. Those who would like to imitate our little bee can follow the Via Francigena. This international itinerary crosses Eclépens and its meadows covered by daffodils. The Narcissi Path is dedicated to fans of these immaculate flowers. This path provides a pleasant two-hour loop across fields covered with wild plants between Montreux and Les Avants. But why not go a little higher up to see the Alpine botanical gardens of Rambertia on Rochers-de-Naye or Thomasia at Plans-sur-Bex ? Back down at the lakeside, you won't be able to resist walking along the shores of Lake Geneva to enjoy the multicolored spectacle of the Tulip Festival or the Dahlia Festival. A few miles away, the unique Arboretum at Vallon de l'Aubonne exhibits tree and flower varieties from all around the world. And to learn more about our little bee, the Vaudois Jura Park organises educational activities teaching children everything there's to know about this lovely pollinating insect.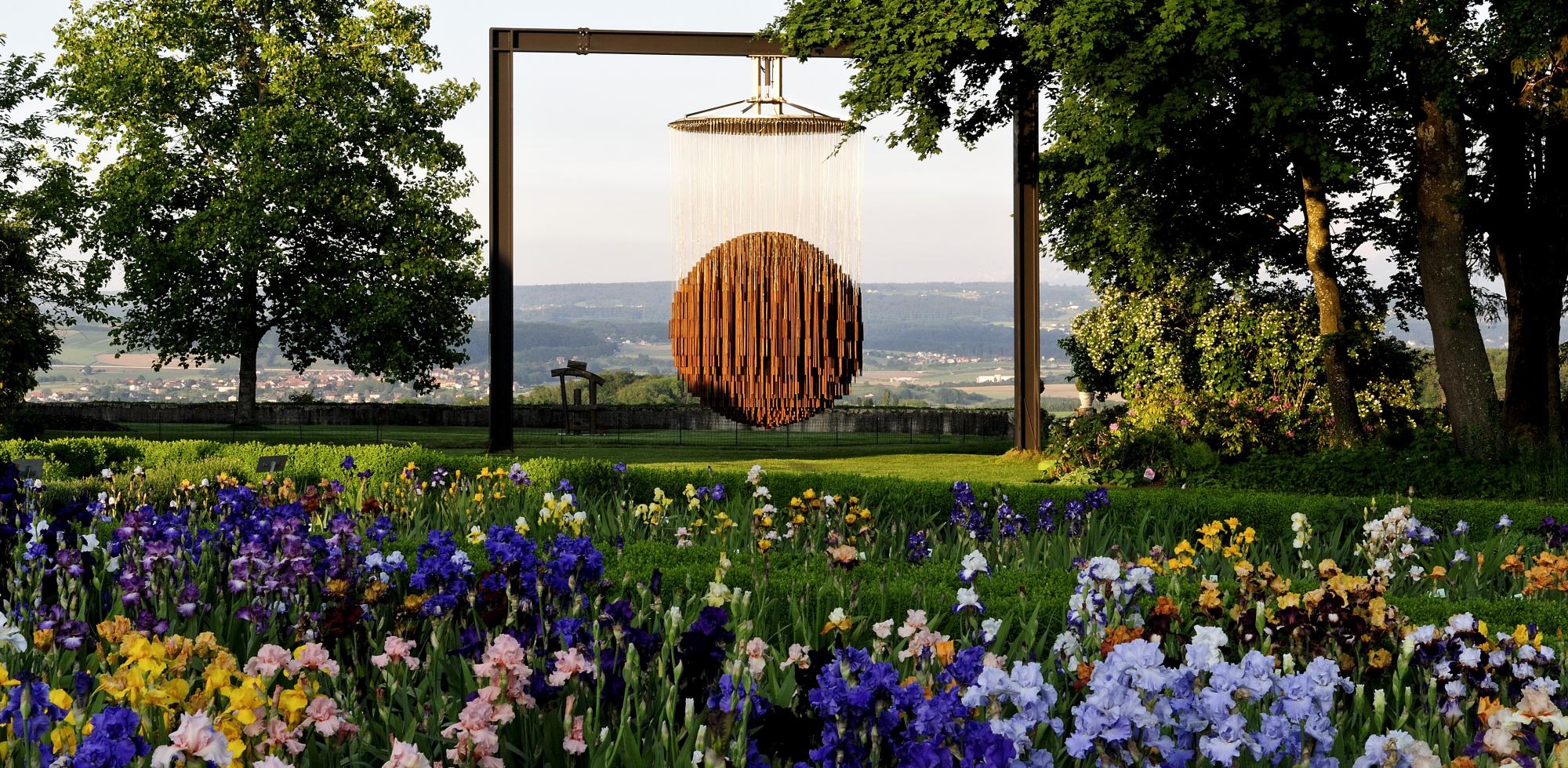 Vullierens Castle (April to end of October)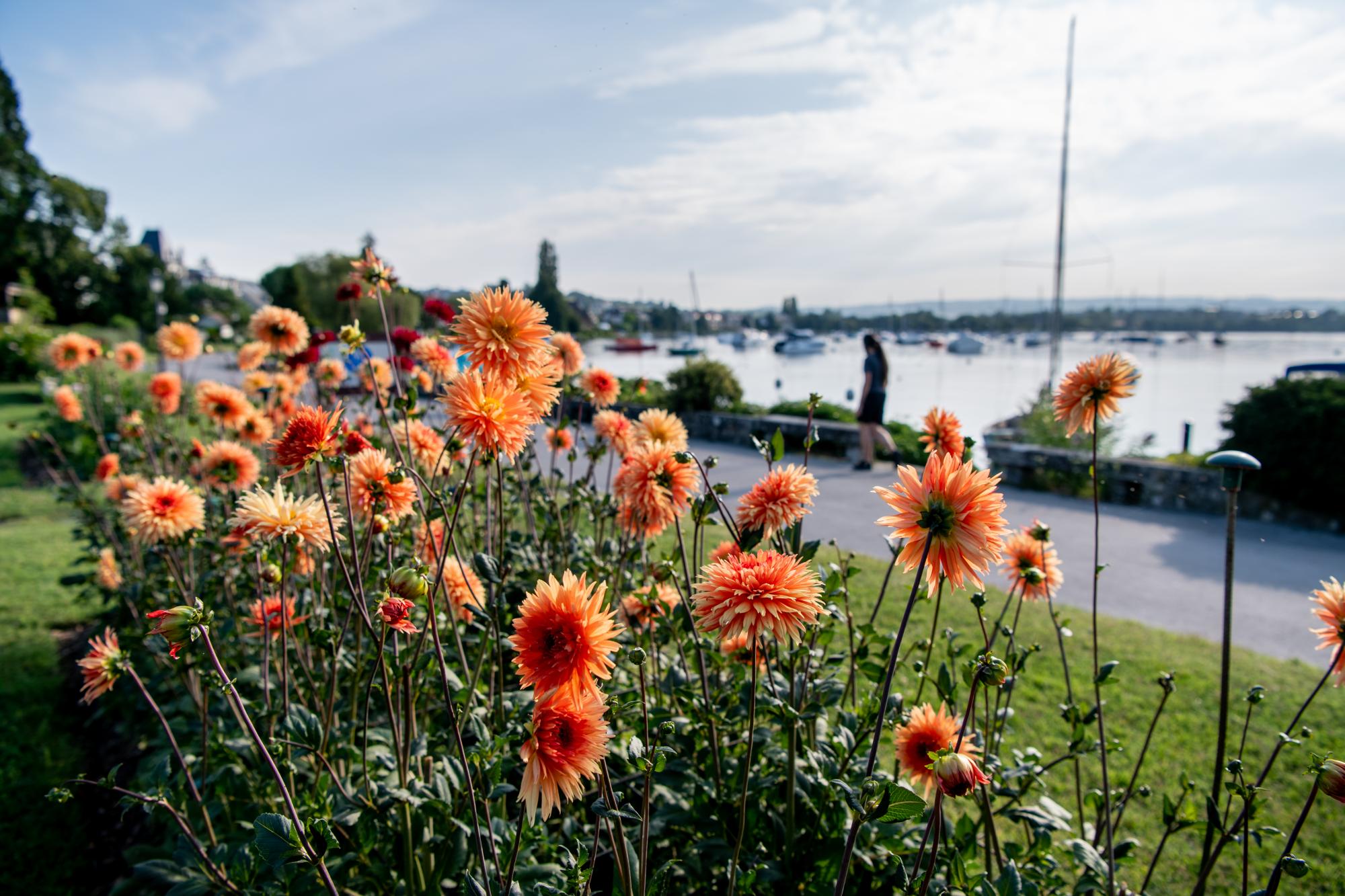 Morges - Dahlia Festival (July to end of October)