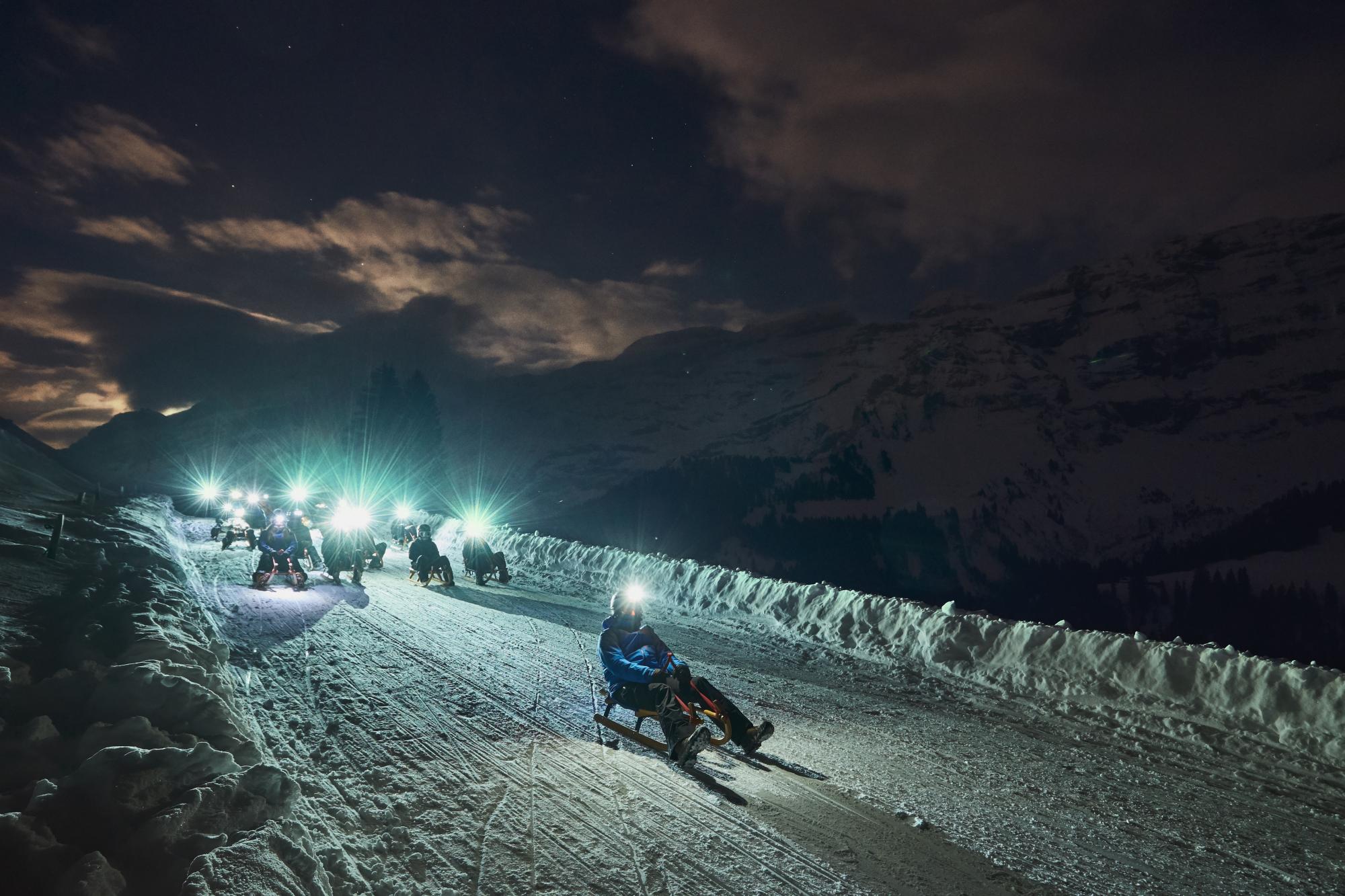 The top 20 of night activities in the canton of Vaud
Lit by head lamps, lanterns, or simply the moon, these night activities show the Vaudois winter in a new light!
It's not because night falls earlier that the day is over sooner! Immersed in darkness but illuminated by the moon and its reflections in the immaculate snow, the winter landscapes appear completely different. The forests, fields and peaks are enveloped in soothing silence. Our ears are trying to discern the slightest sound: maybe that of an animal that hasn't yet returned to its shelter? These almost mystic conditions inspire many fans of winter activities to prolong them beyond sunset. Our night excursions ideally complement regional discoveries or even a day at work because the Vaudois resorts are so close to and easily accessible from the towns. Such an evening out wouldn't be complete without a traditional fondue in a high-altitude restaurant bringing together fans of sports, fun and relaxation.

Lit cross-country tracks and ski slopes
The still of the night allows sportspeople to focus on their physical effort and performance. Equipped with head lamps, cross-country skiers appreciate night outings to practice seal skin hiking, a demanding but trendy physical activity. Skiers and snowboarders appreciate the late-evening openings of the lit ski slopes and cross-country tracks so they can enjoy a moment among friends after work or study.

Having fun in the snow in the moonlight
The darkness increases our sensations, especially the thrills experienced during a high-speed descent on a sled or an inner tube. The latter are on offer at the Tobogganing Park of Leysin to hurtle down the slopes in bobsleigh style. This healthy dose of adrenaline at everyone's reach ends with bursts of laughter around a delicious fondue.

Admire nature at night
The nocturnal landscapes are also the privileged setting for walks, either on foot or with snowshoes. The crunching snow under your shoes is the only sound audible in the still of the night when you're at one with nature. Sometimes, the light of lamps or romantic lanterns is even superfluous when the full moon offers its bluish glow to guide our steps. Magical!