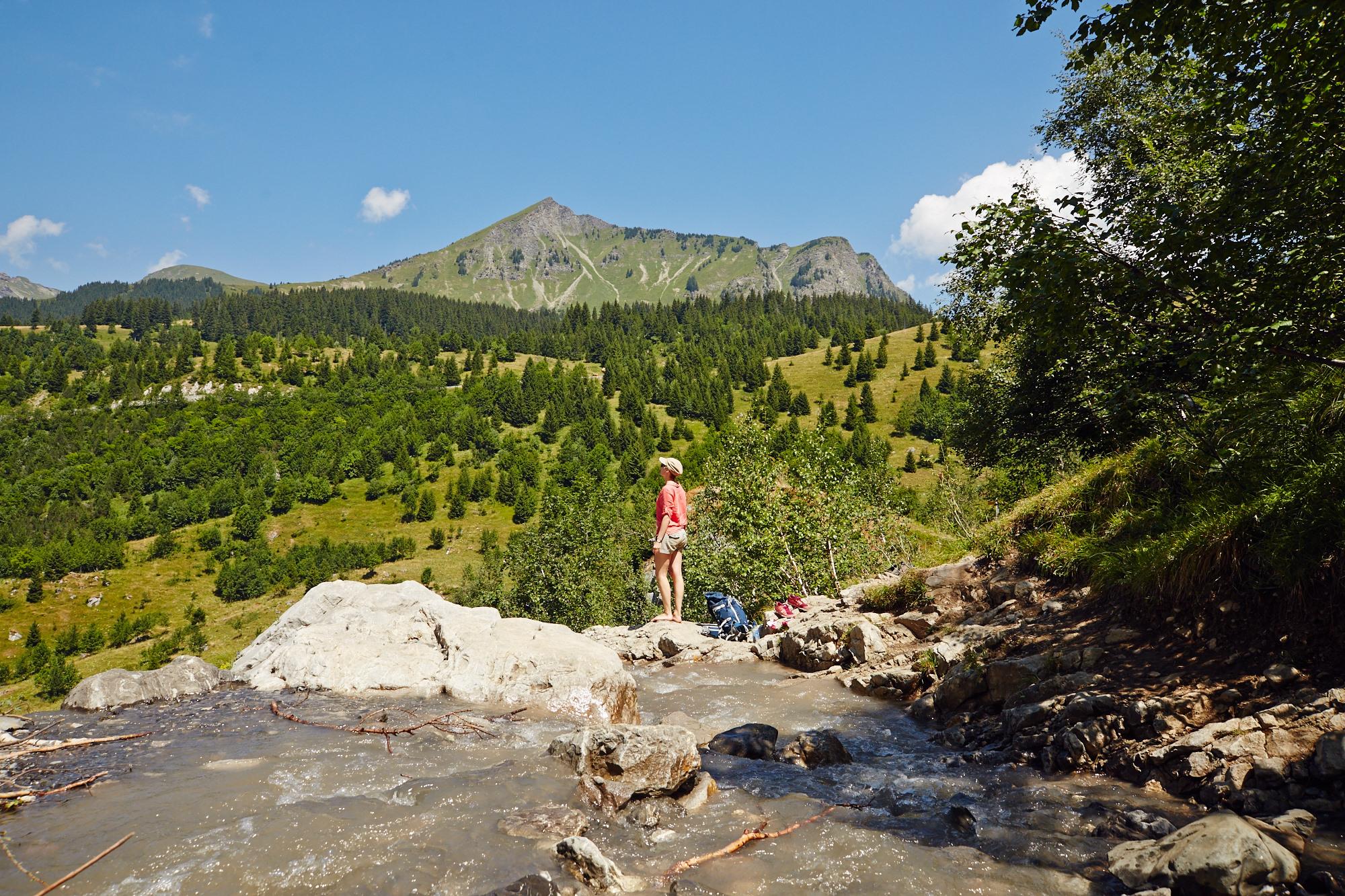 Water, a source of relaxation in the canton of Vaud
Whether you have a dip or take it all in, you'll feel instantly regenerated. Water is an inexhaustible source of well-being and rejuvenation during a weekend or longer in the canton of Vaud!
A hike along a river, a swim in a mountain lake, being soothed by the sound of lapping water at a waterfall: These activities in the canton of Vaud have a relaxing effect and water in common. Of all the elements, water is the most regenerating, the one that accompanies us during all our moments of rest. With its many natural treasures, from lakes and thermal springs to gorges and rivers, the canton of Vaud is a true oasis, inviting you to relax completely. You'll see: Only just by reading our article, you'll already feel more serene. So, imagine what a vacation in the canton of Vaud can do for you! Keep calm and get into Vaud mode!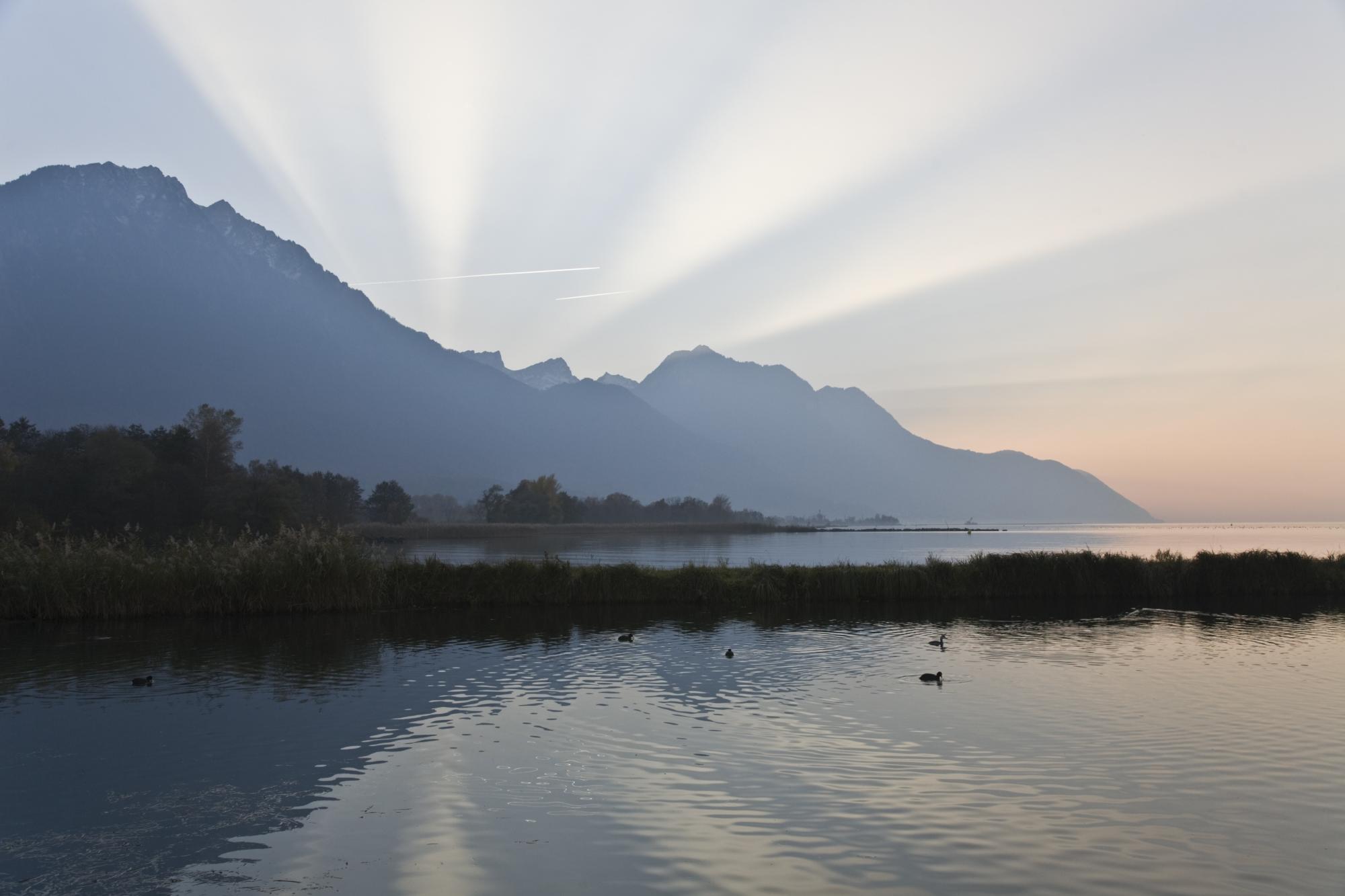 Spas, hikes, cruises or nature reserves: a tour of relaxing places in the canton of Vaud
During the summer holidays, we all need to recharge our batteries before embarking on the second part of the year. Close your eyes and imagine a place where you can fully relax. Your mind knows what it needs: an immediate immersion in nature. First, you'll hear birdsong. There's nothing more beautiful to accompany the rhythm of your breathing and your heartbeat, which will both slow down. The sound of a watercourse now envelops your thoughts and takes them to a faraway place. The sunrays warm you up, while a gentle breeze regulates your temperature and caresses your skin. No tension will withstand this mental journey to nature!
How about making this dream come true? The canton of Vaud combines all these relaxing activities. Stay zen, we'll take you there.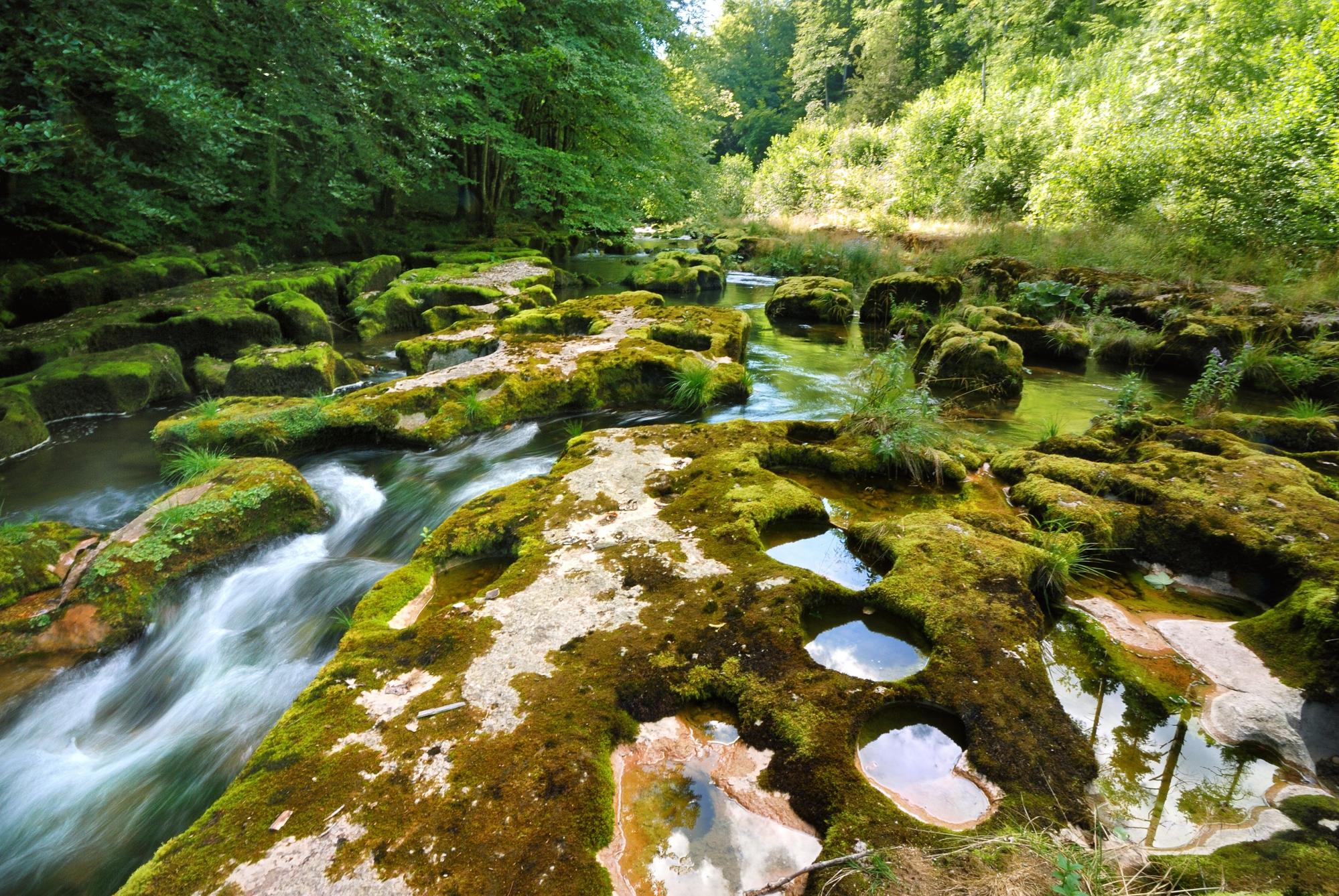 Hiking is a great way to recharge your batteries!
It's usually when the holidays are about to begin that your energy level is at its lowest. You lack sunshine, fresh air and, above all, rest. In your urgent need to do yourself good, you often look for solutions that are too far-fetched. Or you may just want to hide under your sheets and sleep until work resumes. But this year, you've made other plans. Your body and mind tell you that nothing but nature will do. And that's so understandable! A hike by a lake or river, through fields and forests or through a nature reserve forces you be in the here and now. Termed "mindfulness" in one of today's buzzwords. No need for much physical effort, you do already enough throughout the rest of the year. This summer is the time of relaxation and rest. Give yourself a break! For your first outing in the canton of Vaud, you've chosen a hike near gorges or waterfalls. You don't yet know which ones, because you're spoilt for choice! The spot you've heard the most of is Tine de Conflens. True, this idyllic spot seems to have the power to transport you out of time and to have you leave your worries behind. The cool air of the forest, the almost mystical place and especially the sound of the flowing water create a meditative atmosphere that you so much wish to immerse yourself in.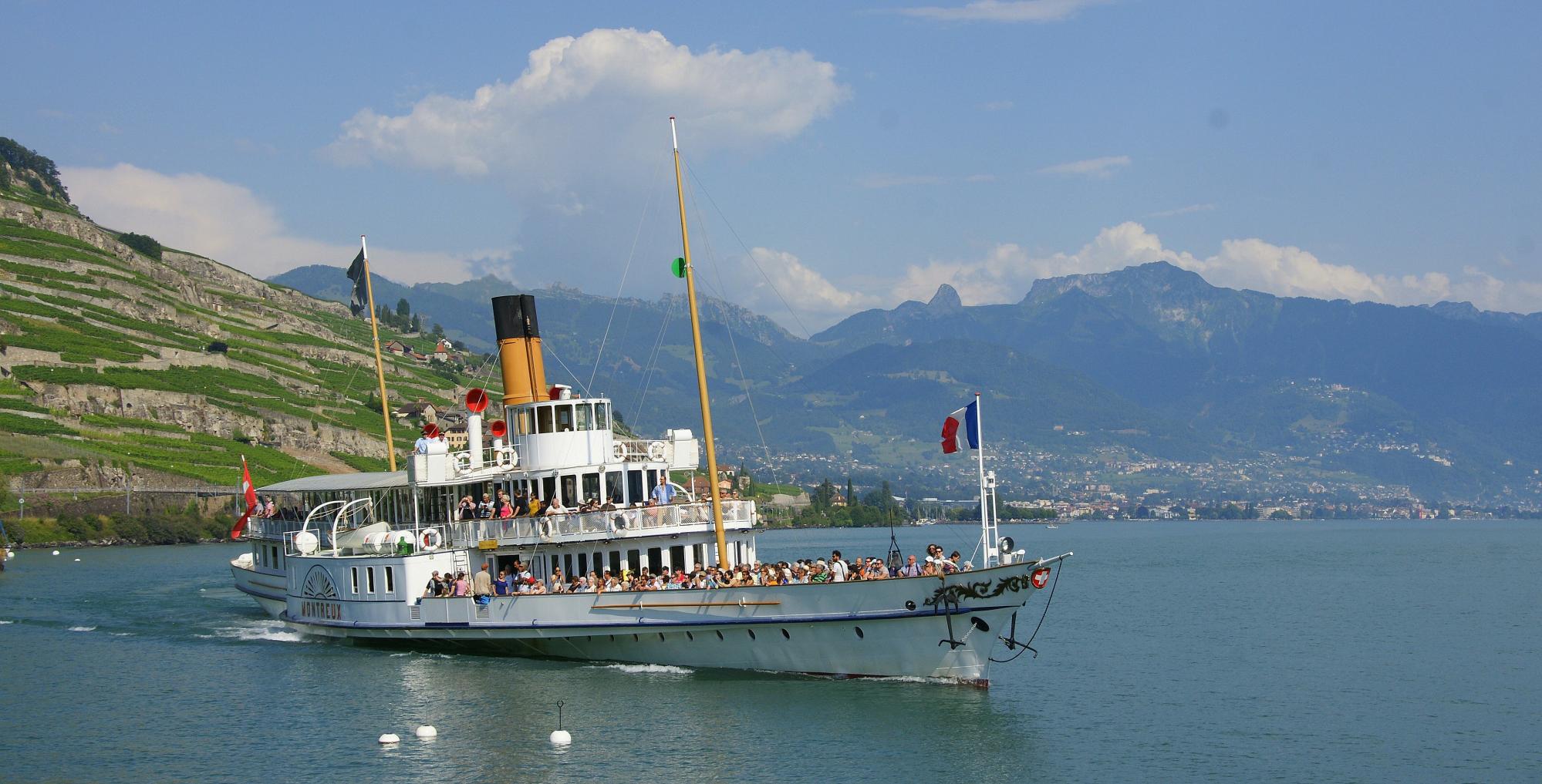 Relax on a cruise on Lake Geneva
This first experience has confirmed that water has an incredibly calming effect. You already feel rejuvenated. The lakeshores also attract you, but you'd like to see them from a different angle. And again, water is the key! You'll discover the many possible cruises on Lake Geneva, Lake Neuchâtel and Lake Joux. You could rent a boat or try a water sport, but you prefer to let yourself go and continue along the lines of "Don't worry, be happy". Well-being is not just rest, it's also pleasure. You'd like to taste culinary specialties and the splendid wines of the various Vaudois wine regions. So you opt for a CGN gourmet cruise on Lake Geneva. By boarding this ancient Belle-Epoque boat, you first feel all the positive vibrations of the thousands of people who spent unforgettable moments in the same venue as you. You're also sure to walk in the footsteps of a few famous hosts! You yourself feel extra special when you are welcomed, then seated and served a glass of Chasselas, the emblematic white wine of the region. How good it feels to be taken care of! The waiter explains that in a few moments you'll behold the vineyards where the wine in your glass comes from. That's something new! And what a view! How marvellous the Lavaux vineyards are seen from here, with their terraces aligned right down to Lake Geneva in a landscape that is both natural and graphic. No wonder it's a UNESCO World Heritage Site.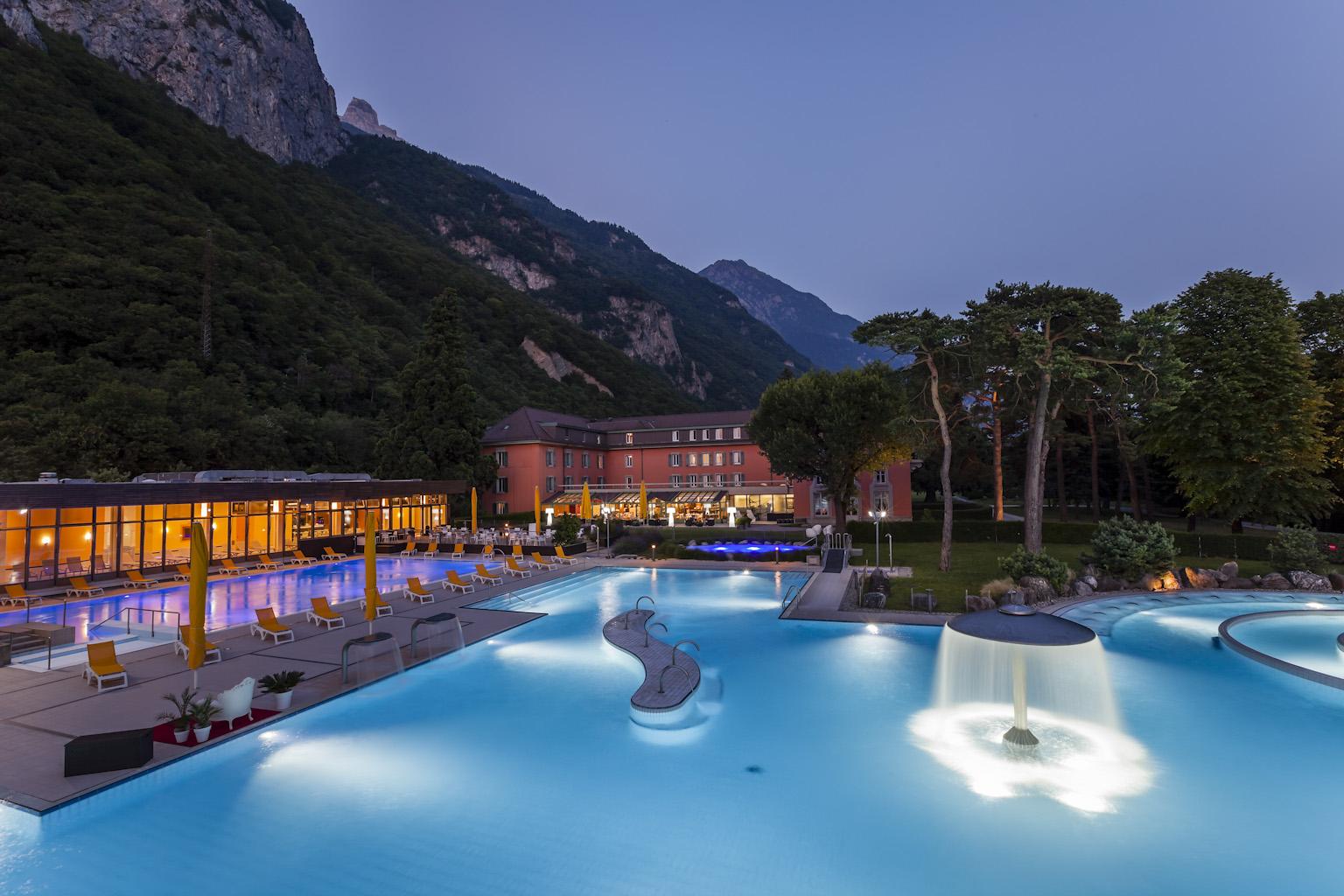 Spas and baths: pure relaxation
After a weekend in the canton of Vaud, the usual everyday stress already seems a thing of the past. All you hope for is that this comfy bubble of well-being enveloping you will last as long as possible. So, to embed this state of relaxation within you, you'll grant yourself another relaxing pleasure: a day at a spa. You'll discover that the baths of the canton of Vaud are also known abroad. In addition to the many hotel spas, the best-known and most popular spas are those of Yverdon-les-Bains and Lavey-les-Bains. The first one originated in the times of the Romans, who coveted baths. The second one immerses its guests in Switzerland's hottest thermal spring. Since you're unable to choose between them, you'll have a treatment in both. You'd forgotten about the incomparable feeling of relaxation when you first immerse yourself in a hot water spa. It's so chilling, but at such a pleasant temperature! You'll experience this moment to the full, to commit it to your memory and to reexperience it again later in the year should the need to relax arise again. But before talking about the end of the holiday, you'll enjoy a treatment given by expert hands. Everything is carefully thought out, including the cosmetics, which are of Swiss quality, of course. Leaving the massage room, you'll give yourself enough time to descend from your little dream cloud. Another few minutes in the baths, sauna or steam room and you'll feel ready to return to the changing rooms. On the threshold, you'll take a deep breath, close your eyes and wonder whether you've ever felt so relaxed before. Thank you, canton of Vaud, the very best tranquiliser for body and soul!