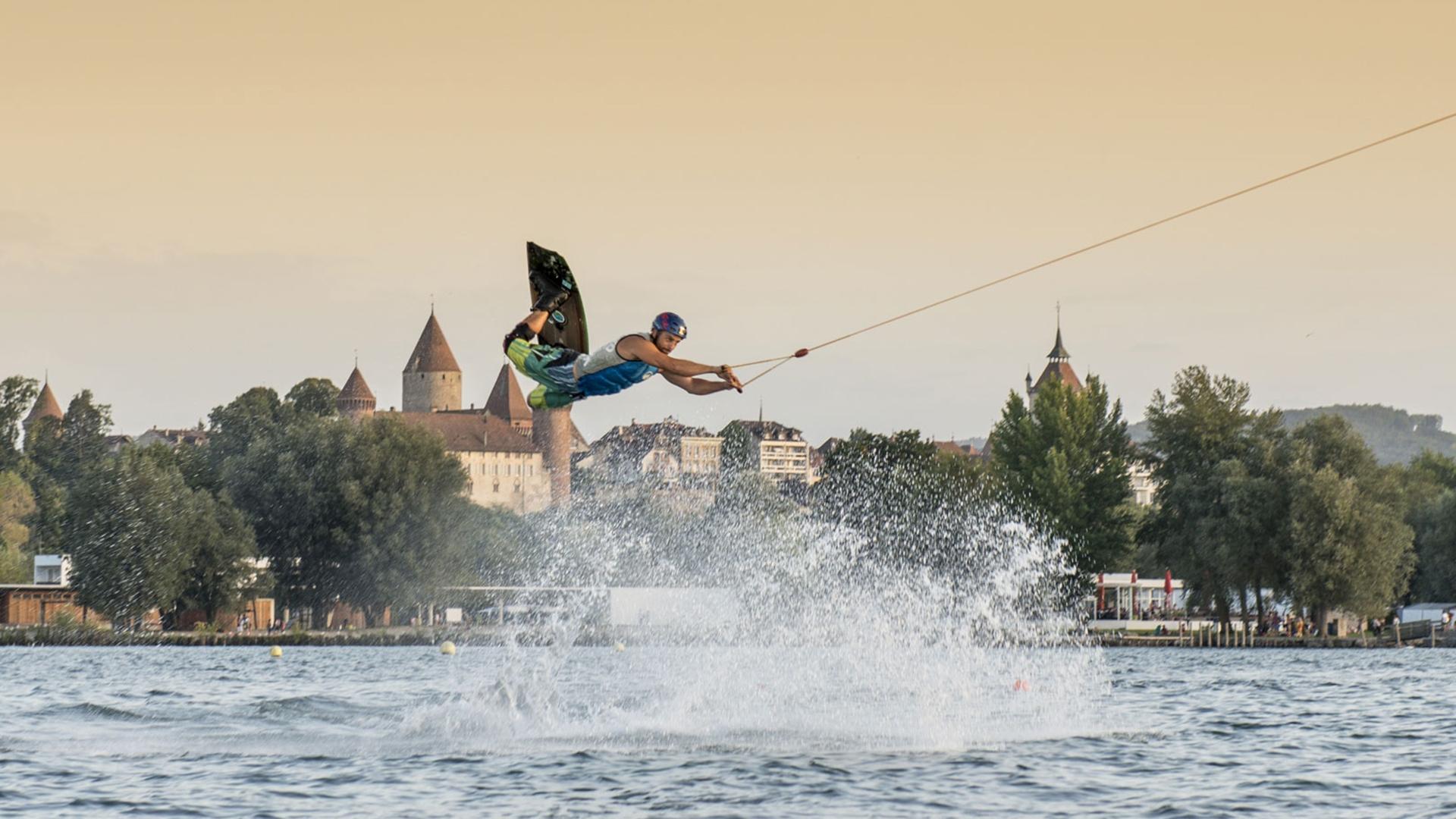 An ocean of fun
Where there's water, there's fun! You'll soon realise that when you spend a few hours at the rivers and lakes in the canton of Vaud.
Do you want sunshine, meet up with friends, expend some energy and experience new things? Summer's ideal for that! To enjoy the warm season at its best, nothing beats spending time at lakes and rivers. And the canton of Vaud has plenty of those! You've made up your mind: This will be the holiday when you'll have a go at many new things. For example, water activities that have been tempting you for so long!
Rafting, kayaking, hydrospeeding, kitesurfing, water skiing, wakeboarding, and wakesurfing: water sport galore in the canton of Vaud. Follow us and grab every opportunity to have fun by doing a water sport!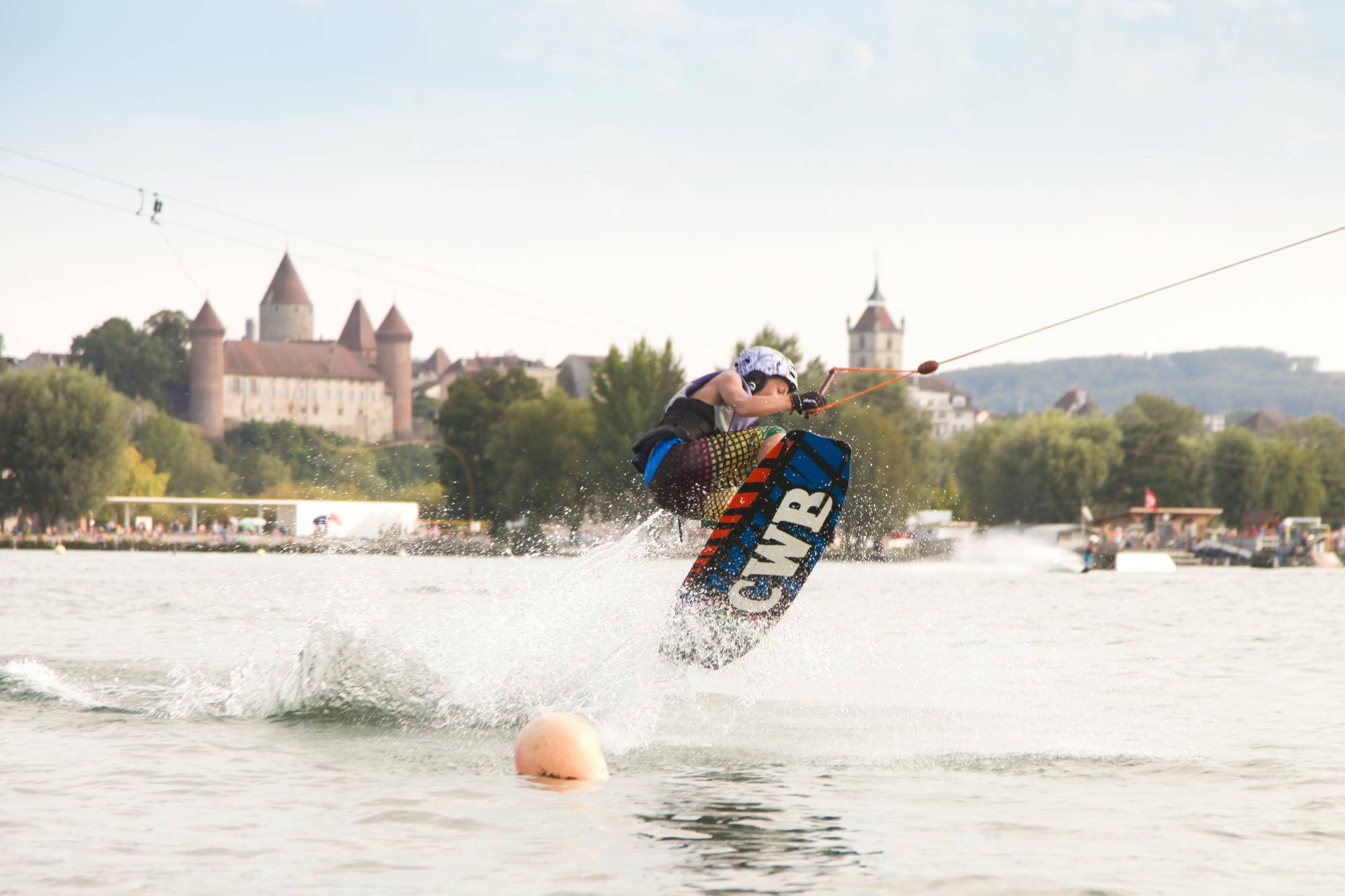 Wakeboard, a fun water sport to practise in Switzerland
Let's start with the water activity that may be on top of your to-do list: wakeboarding. Many nautical centres offer introductory courses. For example Alphasurf in Estavayer-le-Lac. A stone's throw from Payerne and Yverdon-les-Bains, this beach has Switzerland's best equipped water sports centre AND the longest water ski lift.
Wakeboarding is a combination of snowboarding, water skiing and surfing. All activities you've been dreaming about! During the introductory course, you'll be sure to have fun even if you've never done the activity before. It would seem that letting yourself go is the hardest thing. You'll see that as your confidence grows, the cable will do all the work. Keep your arms well outstretched and you'll be able to stand up (quite) easily thanks to traction. Wow! What a unique sensation! Once you'll be standing on the board, you'll recall the instructions: Raise your head by bending your knees and rotate your hips to stand sideways, just like on a snowboard. It sounds easy enough, but it does take a few falls before you're able to do it! No worries, this is part of an experience that you won't forget in a hurry.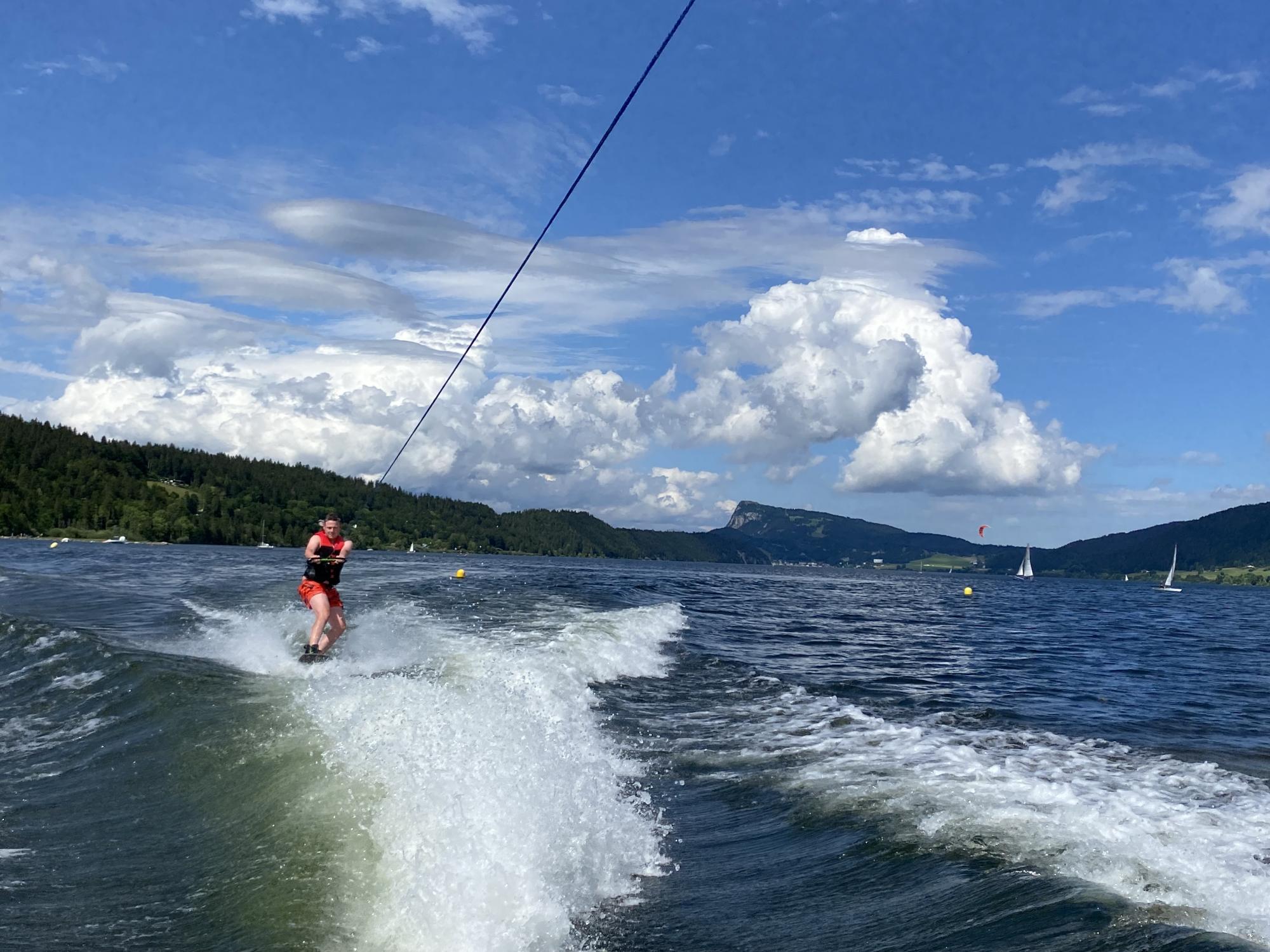 Water skiing in the canton of Vaud?
This introductory course will make you want to go further and compare wakeboarding to water skiing. This sport is practised on many Vaudois lakes such as Lake Joux. The frenzied pace of the many fun water activities on offer contrasts with the calm of this out-of-time region. Fun and relaxation in one go, who could ask for more! Just as in wakeboarding, you'll have to let yourself be carried by the cable. The difference with Estavayer-le-Lac is that you aren't pulled by a ski lift but by a boat that adapts its speed. From the 30 km/h reserved for the introductory courses, you'll soon speed up to 50 km/h once you've mastered your balance. Isn't that exciting!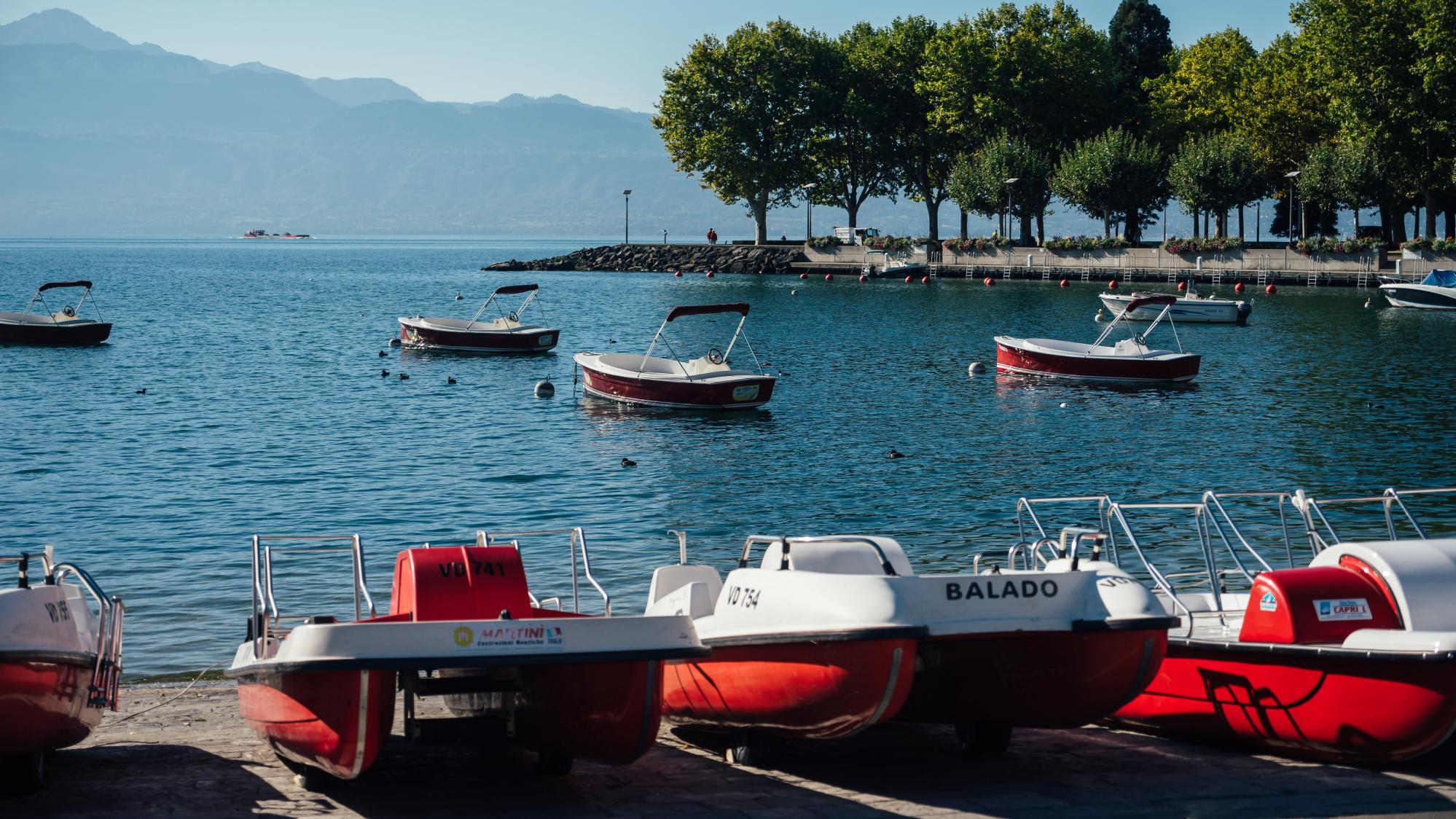 Water activities in the towns of the canton of Vaud
Water sports are a specialty in many Vaudois nautical centres, especially in the towns on the shores of Lake Geneva. These centres provide a seamless transition from city life to a fun dip in the lake - in a snap! No wonder you pass so many smiling people in the streets of Lausanne, Montreux, Nyon, and Morges. Let's set the scene: You start your weekend in the canton of Vaud with a shopping spree, for example to find the perfect bathing suit or the trendiest flip flops. Treating yourself to these accessories will already put you in a good mood! Continue in the same vein by having lunch on a terrace. Fresh salad of the day, a gourmet meal or a local recipe: the most important thing is enjoyment! And a bit of sunshine, of course! All these ingredients provide a perfect programme, but that's not all! To create truly memorable moments, head for the beach. Movement is the best booster there is. But when, in addition, you glide over the water accompanied by a crazy team, then you'll turn into a child again and have fun like kids do.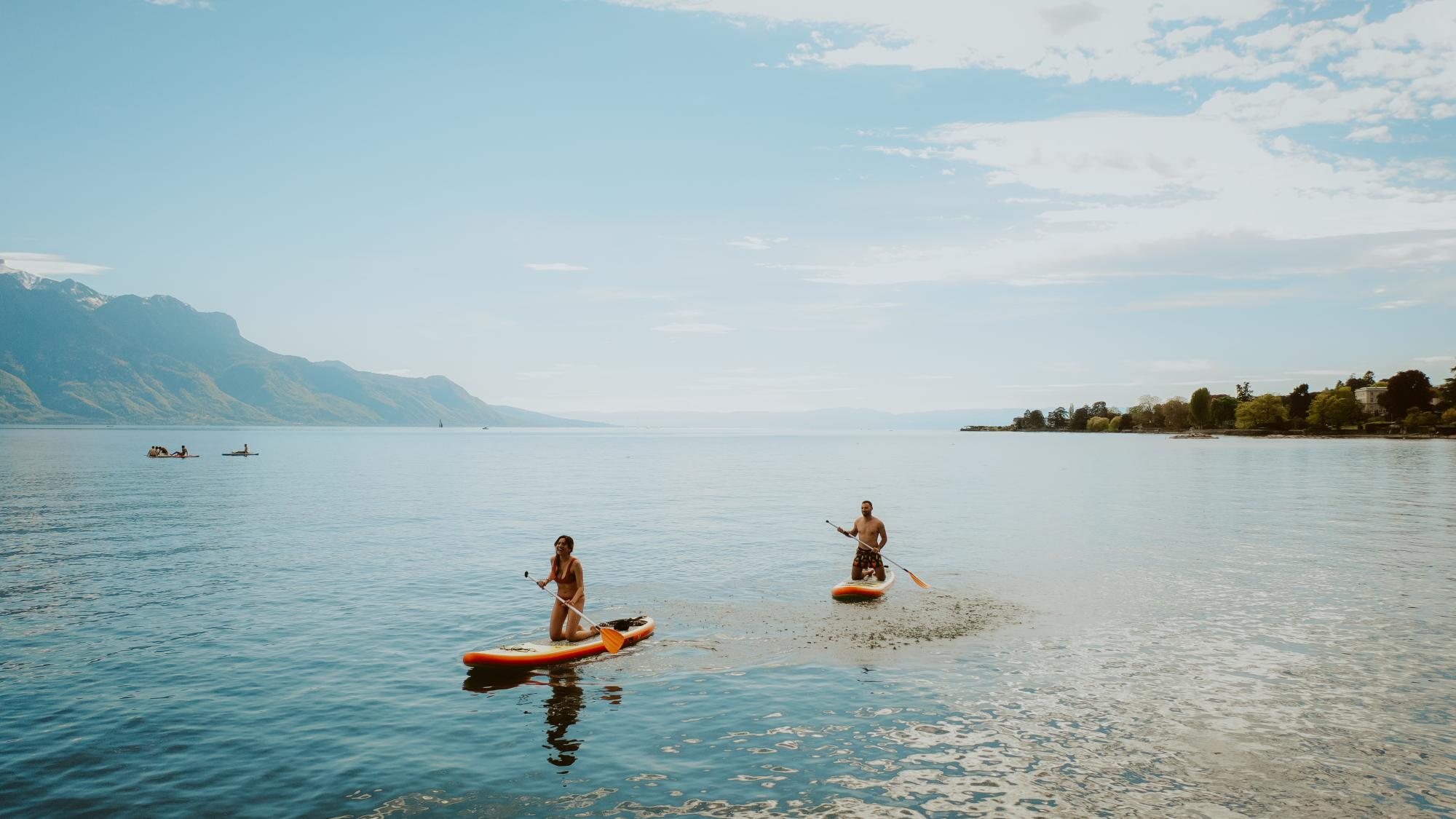 Paddling, a must-do this summer!
Water skiing and boating are essential activities, although paddle-boarding has been gaining ground in recent years. This attractive water sport is accessible to everyone and is both physical and rejuvenating. When watching the confident paddlers from the shore, you may think it looks like a piece of cake. At the same time you wonder if you will manage to imitate them. Will you keep your balance or end up in the water? There's only one way to find out! You'll already have received good advice at the nautical centre: where to stand on the board, how to stand up, how to paddle… it doesn't look that difficult, does it... Come on, let's do it! Your legs will cave in a little at first, but you'll soon be more confident. In-between a few energetic strokes, it's so pleasant to take a dip or to lie down on the board and enjoy the sun. The gently rolling water is the best reward after spending your energy while paddling. You're already familiar with paddling? Why not go for something different such as paddle-yoga? Experienced teachers offer courses in this physical and meditative water activity all around Lake Geneva, from the Riviera to La Côte.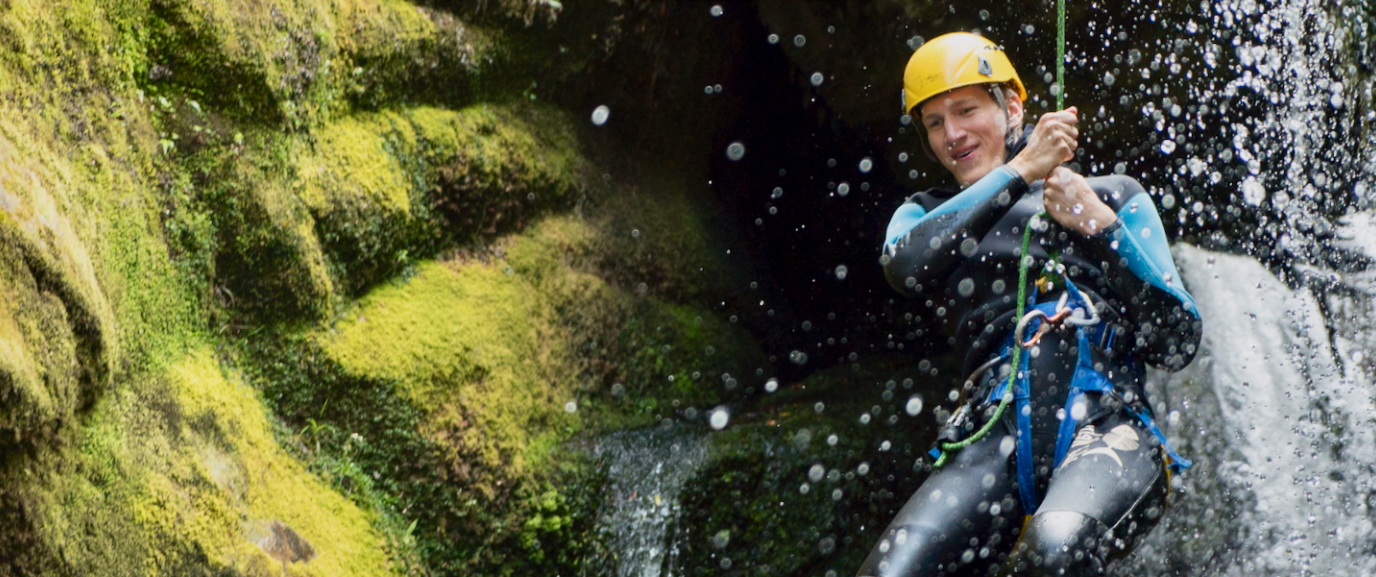 Fun water activities in the Vaudois Alps
The thrills are even better on a river or a mountain lake. To experience them, the best thing to do is to go up to the Vaudois Alps. Come again? Water sports in the Alps? Sure! And it isn't as surprising as you may think! The Alps are a true oasis, offering rivers, mountain lakes and waterfalls. If you are still keen on more water sensations, check out the many activities available in the Vaudois Alps. Canyoning, for example. This extreme sport is practised in the river Sarine Gorges near the Mosses mountain pass.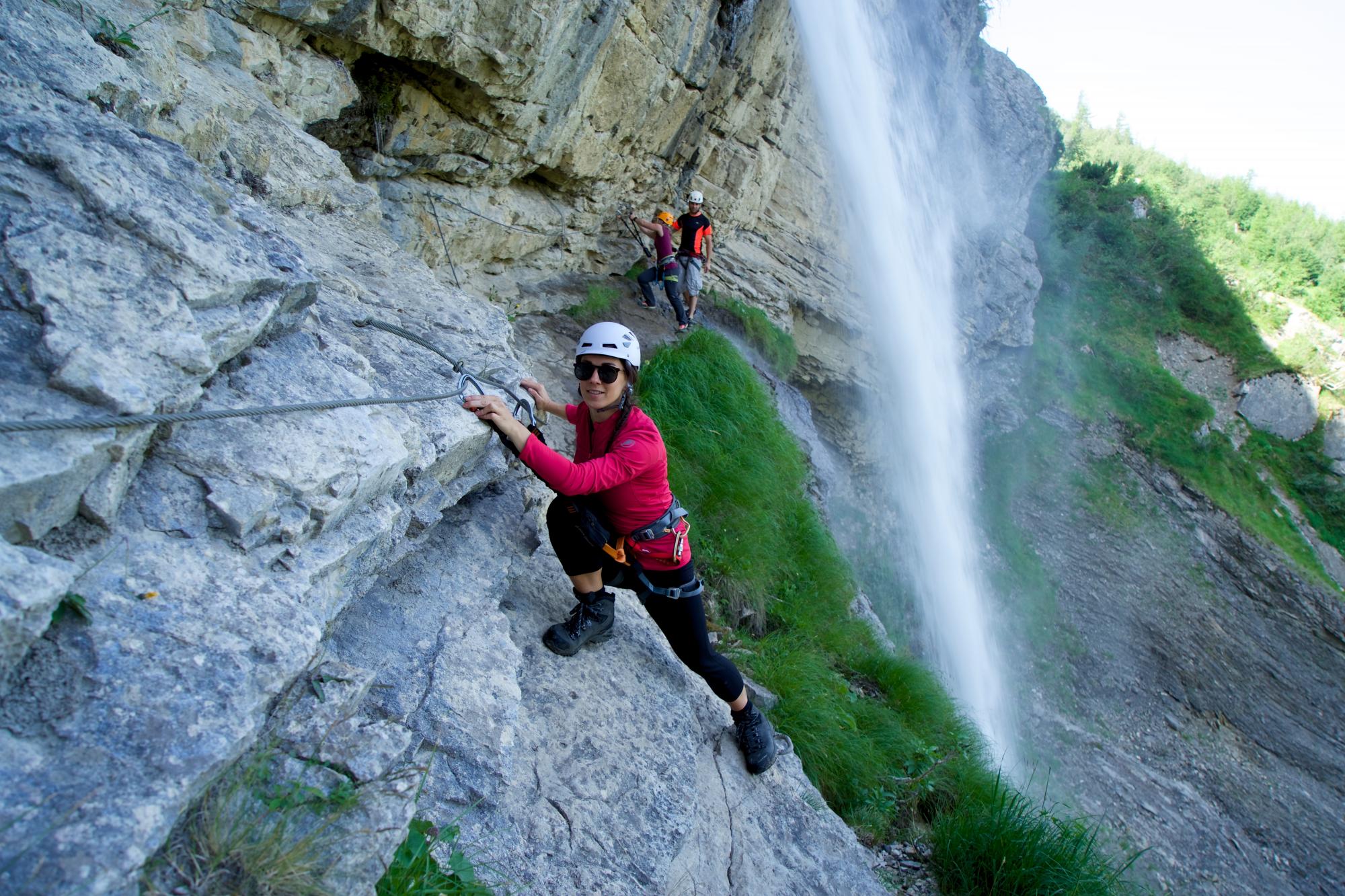 Canyoning, zipline, via ferrata: feel the thrill!
Were you anticipating being cold in the riverbed despite the hot weather? Your doubts will vanish as soon as you receive your full neoprene suit and your helmet. Another thrill is awaiting you: canyoning! It will make you climb up yet another notch on the scale of extreme water sports! Visits to caves, toboggans, ziplines and jumps up to a height of nine metres: the programme alone is worthy of goose pimples! Exactly what you need to complete your tour of fun water activities in the canton of Vaud. And don't worry because the canyoning routes of Pays d'Enhaut are adapted to everyone from the age of 10 or 12 years.