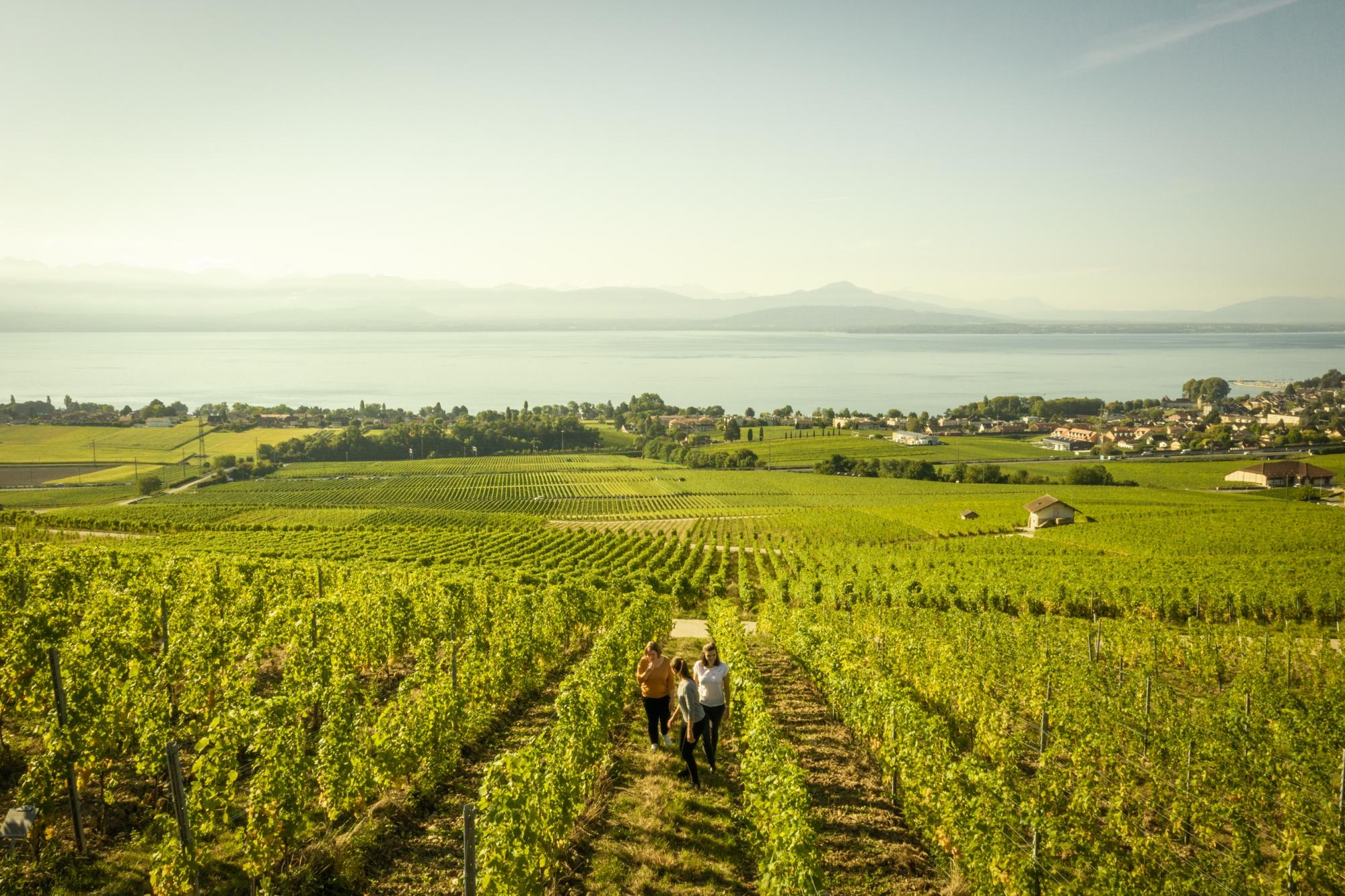 The Vaudois wine regions and their AOC wines
The canton of Vaud has eight AOCs based on six wine regions. They produce quality wines such as Chasselas and many other red and white grape varieties.
The canton of Vaud is the homeland of Chasselas. This grape variety is grown in six magnificent regions that are shaped by a long winegrowing tradition. The wines of its eight designations of controlled origin (AOC) can be enjoyed on any occasion: among friends, during wine tours or directly at the winemakers' estates.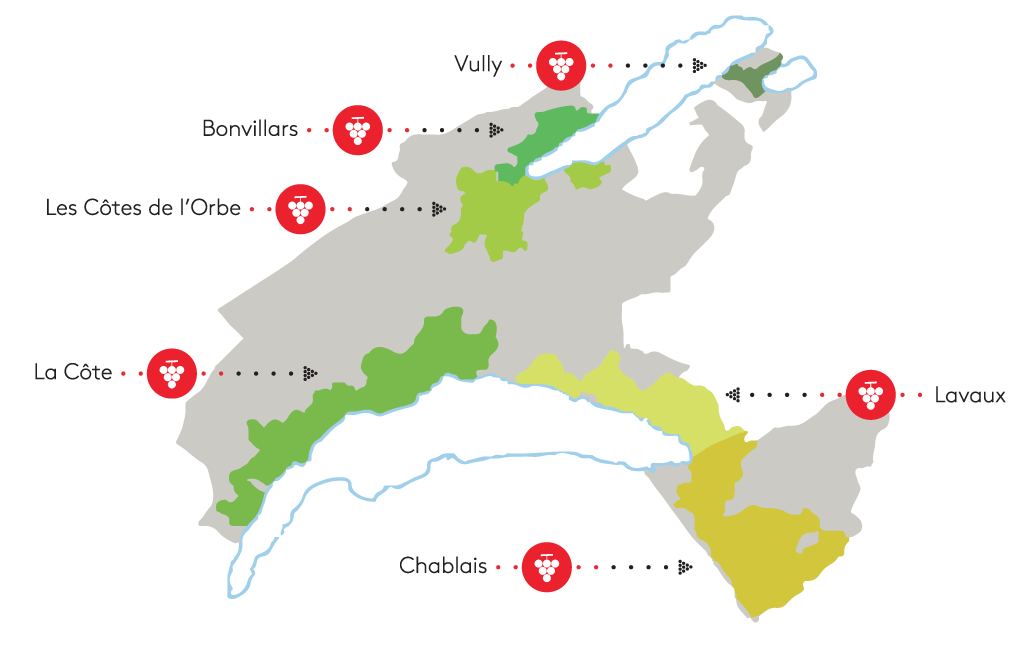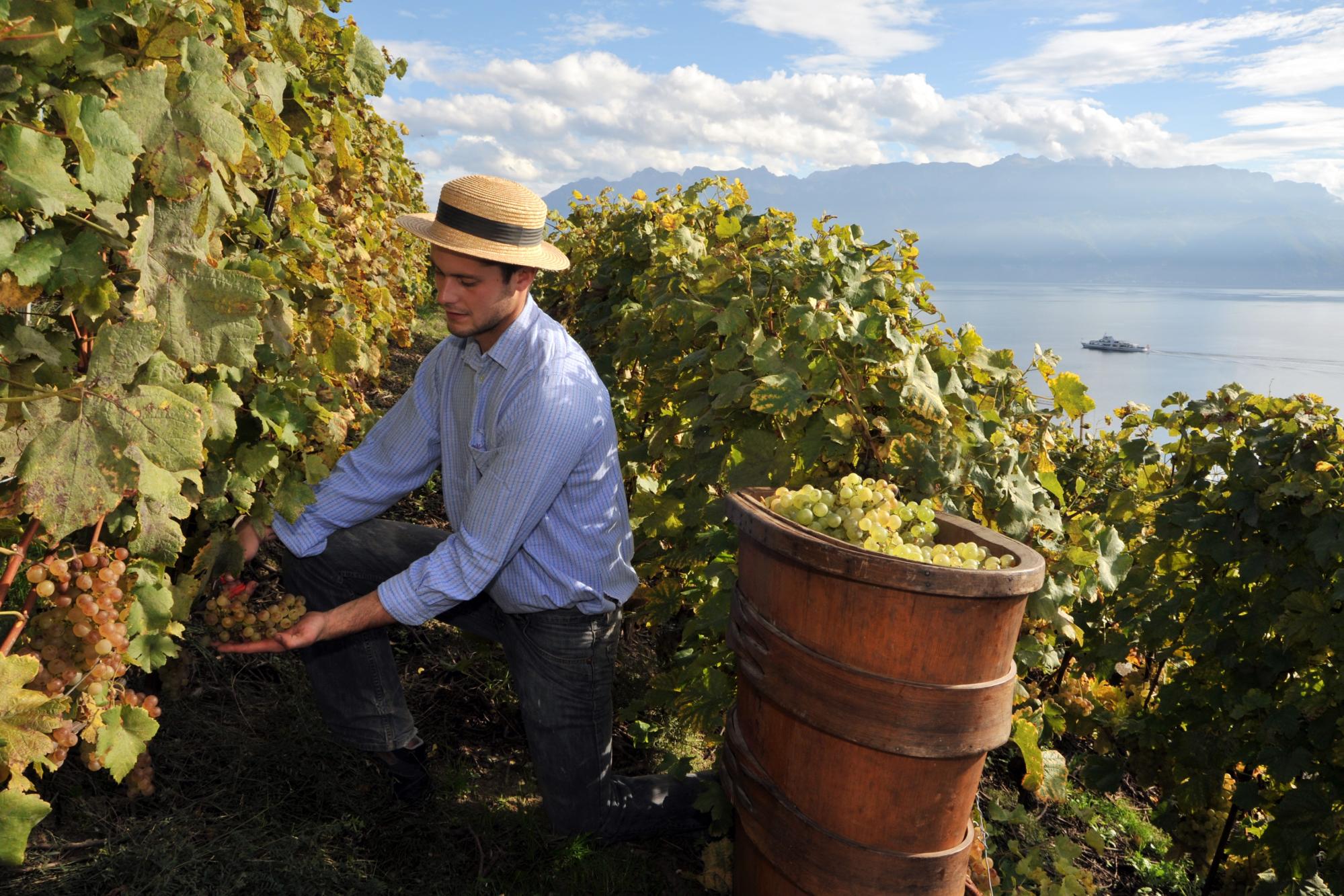 Designations of controlled Vaudois origin
The Vaudois wine tradition is millennial: It imbues the cellars and the landscapes shaped by generations of passionate winegrower families. Vaudois wine figures make you dizzy. The canton counts some 9, 350 acres of vineyards that are divided into six wine regions: La Côte, Chablais, Bonvillars, Côtes de l'Orbe, Vully, and Lavaux. Added to which are, in Lavaux, the grand vintages Calamin and Dézaley. What do they have in common? A natural predisposition for white grape varieties, especially Chasselas. So much so that the canton of Vaud is Switzerland's only canton growing mostly white grape varieties. Because the region counts so many different varieties, any stay in the Lake Geneva Region should include a wine tasting session, either at an estate, a reseller or a celebration dedicated to vines and wines.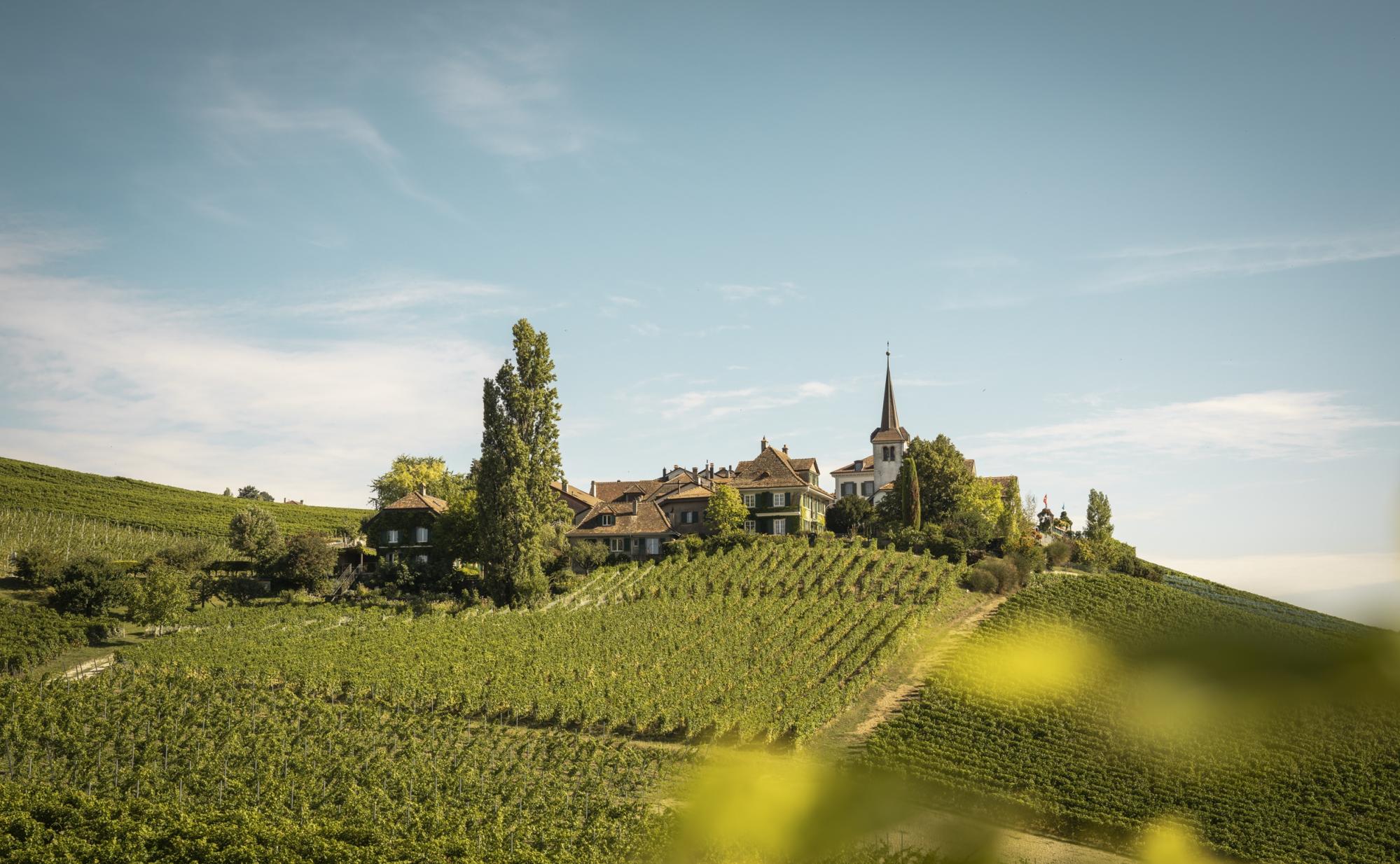 La Côte, eat and drink your fill
Covering more than 4,950 acres, the wine region of La Côte AOC represents more than half of all Vaudois vineyards. Located in an idyllic setting above Lake Geneva, it boasts about thirty castles that can be admired during wine tourism hikes around Luins or Bursins. A lord ensures their cohesion: It is called Chasselas and is grown wherever you look. The product, a dry white wine, is perfectly in line with the local cheese specialty called "Malakoff". This dish is always great, be it for an aperitif or for dinner. The region likes to celebrate wines and grapes and there are many opportunities to do so from Nyon to Morges. Picturesque trains let you discover the beautiful La Côte vineyards in all seasons.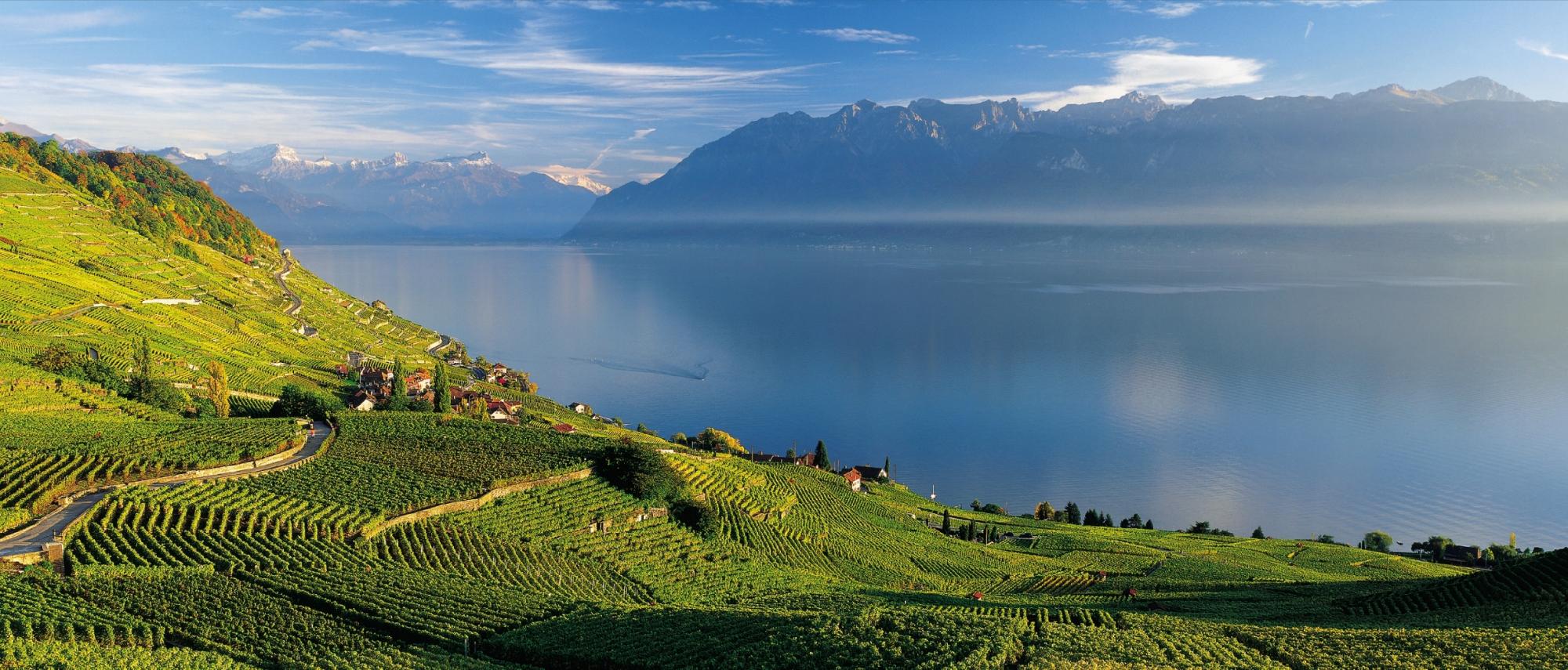 An AOC triptych in Lavaux
Lavaux has been a UNESCO World Heritage Site since 2007. It owes its 1,991 acres of terraced vineyards to the labour of generations of winemakers and Cistercian monks. This beautiful region between Lausanne and ChillonTM Castle is a monument in itself. It is ideal for visits and contemplation especially aboard the Lavaux Express and Lavaux Panoramic trains, and even from Lake Geneva during a cruise on a CGN boat. Within the site, the Maison Lavaux allows you to immerse yourself in the life of Lavaux thanks to an exhibition. The Lavaux Vinorama Centre presents the exceptional vineyards and wines of the three AOCs: Lavaux, Calamin and Dézaley. Chasselas is a must-taste native grape. Although it covers almost 75% of the vineyards of this golden triptych, about 30 other varieties are grown there such as Gewurztraminer and Pinot Gris. But there are also reputed red grape varieties: Pinot Noir, Gamay, Gamaret and the increasingly popular Garanoir.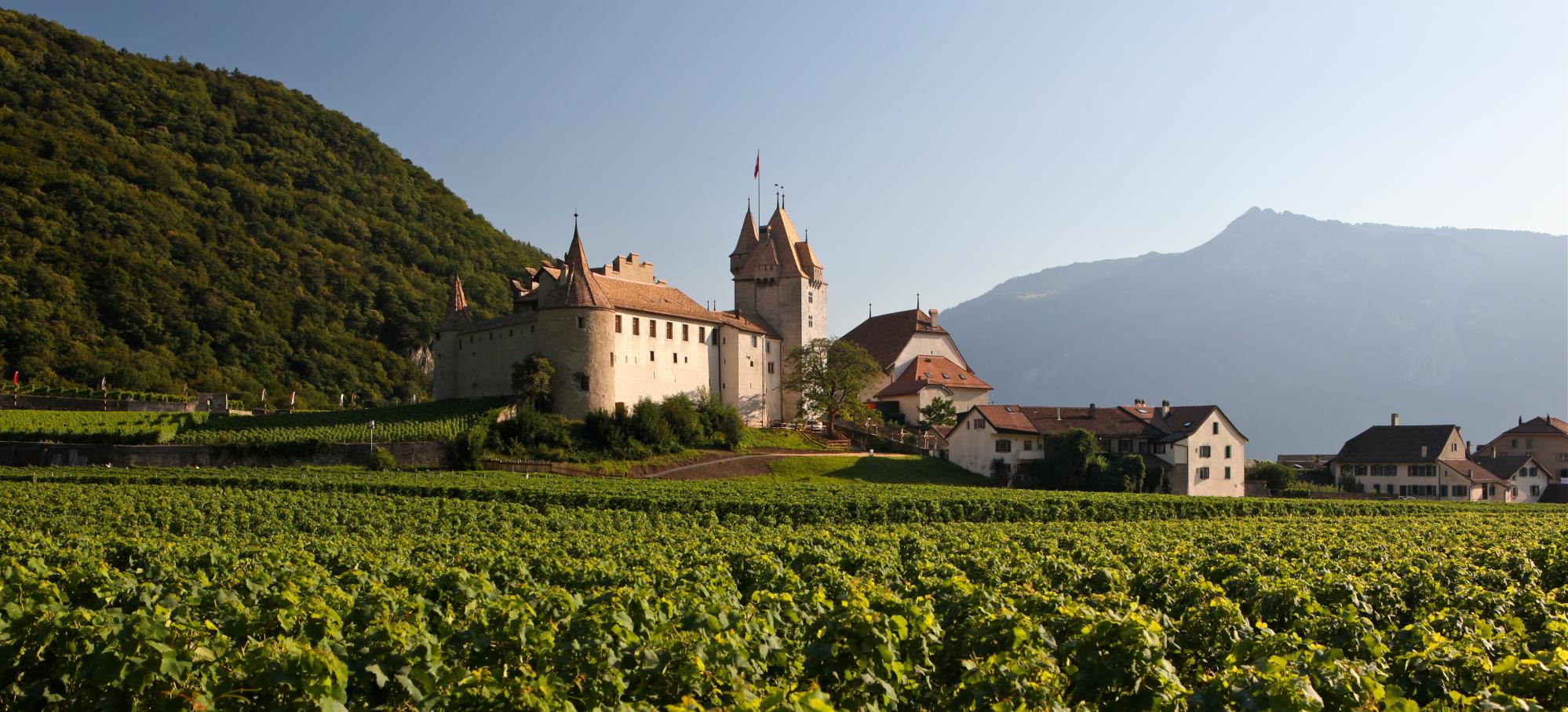 Chasselas also calls the Chablais its home
The Chablais lies between Lake Geneva and the Alps. Its vineyards cover about 1,460 acres. This AOC wine region is divided into five designations, the most famous being Yvorne and Aigle. The castle of Aigle, which dates back to the 12th century, is surrounded by vineyards. It is the emblem of the region's long wine tradition. Since 2012, the Chasselas World Fair has been organised there every year to celebrate the universal appeal of this grape variety. The castle also houses the Museum of Vine, Wine and Labels founded by the Confrérie du Guillon. Don't miss it! In the warm season, hikers and walkers mingle on the vineyard trail leading from Bex to Aigle. Another route is the "Chablais wine tour". It passes through white wine vineyards as well as land that is ideal to grow racy reds such as Syrah and Merlot.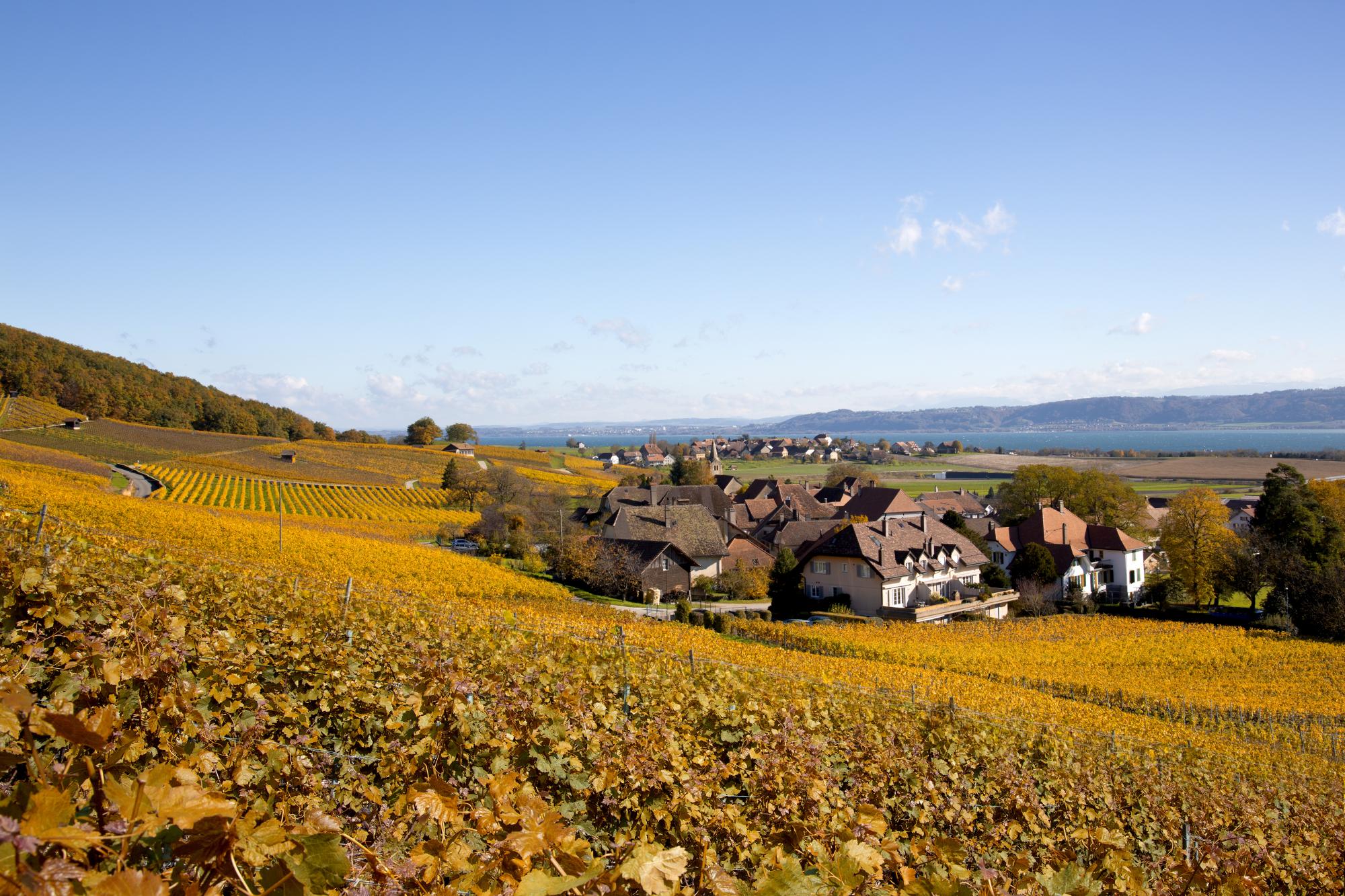 Bonvillars, Pinot and truffles
The Yverdon-les-Bains region boasts 445-acre vineyards called Bonvillars AOC. These vineyards are located between Concise, Valeyres-sous-Montagny and the medieval town of Grandson on the northern side of Lake Neuchâtel and its beneficial micro-climate. Its red varietals such as Pinot Noir and Gamay and its white ones delight wine fans and are the pride of the dozen or so local winemakers. They can be enjoyed in the wine cellars and at the Maison des Terroirs in Bonvillars, which is both a grocery store and a tourist site. In summer, there is a gourmet walking tour that makes for a pleasant discovery of the regional winegrowing estates. In autumn, winemakers and local companies meet up at the truffle market of Bonvillars. After all these exciting moments of tasting, the most discerning gourmets can relax during an outing in a charming horse-drawn carriage.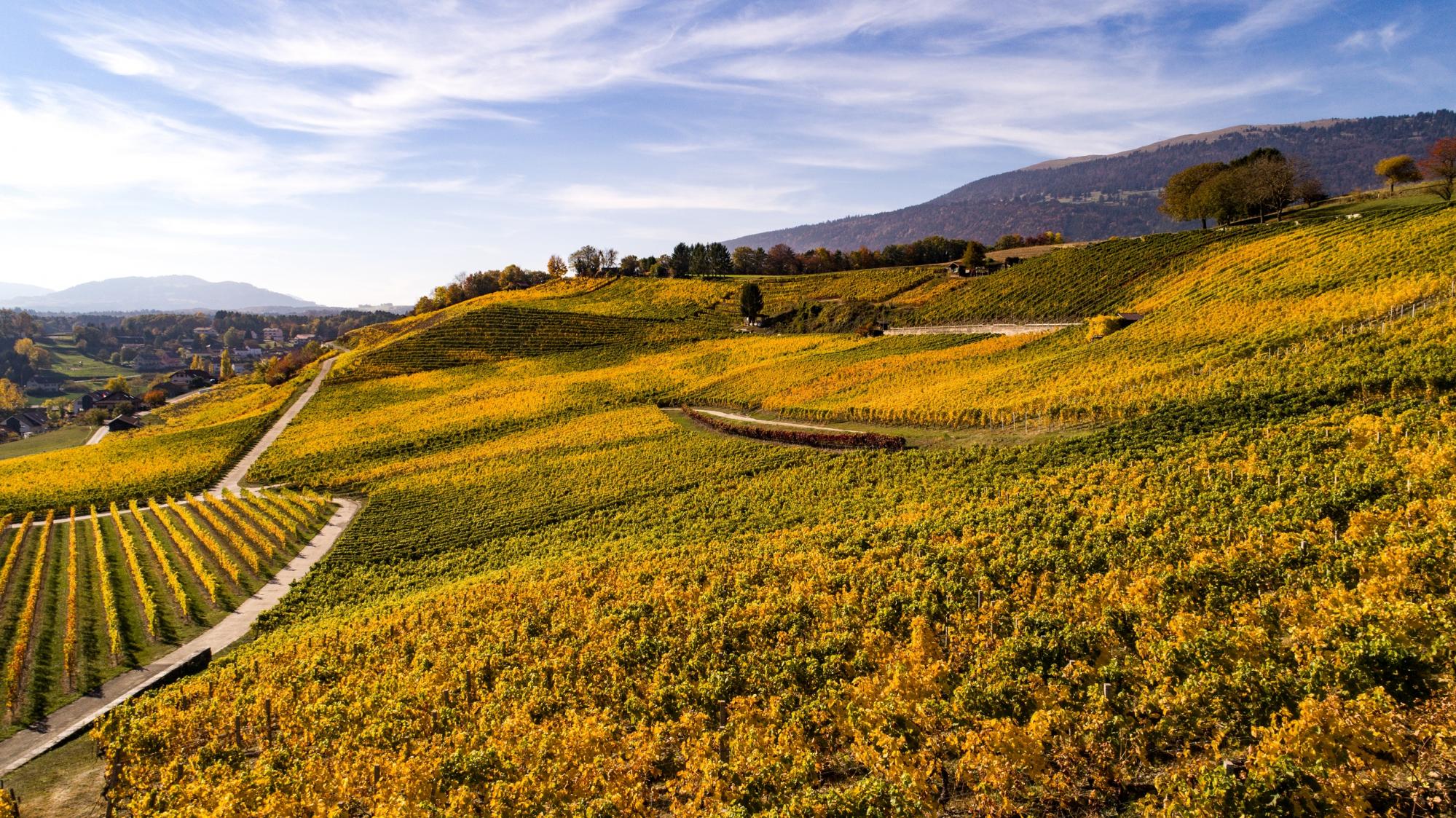 Côtes de l'Orbe, a rich experience
The Côtes-de-l'Orbe AOC between Lake Geneva and Lake Neuchâtel are said to be Switzerland's oldest wine region. Its area of 120 acres seems relatively small today. In the 19th century, however, Orbe was the largest wine district in the canton of Vaud. The winemakers of some of the villages between La Sarraz and Yverdon-les-Bains perpetuate the winegrowing tradition, producing mostly reds. Indeed, unlike the rest of the canton's vineyards, 75% of the Côtes de l'Orbe region consists of red grapes, above all Pinot Noir and Gamay. The twenty varietals grown there can be enjoyed at the estate or at a festival dedicated to them in November. The half-marathon of the Côtes de l'Orbe in September is a festive sports occasion to enjoy the splendid panorama, while the gourmet walking tour of Arnex-sur-Orbe provides another way to explore the north of the canton of Vaud.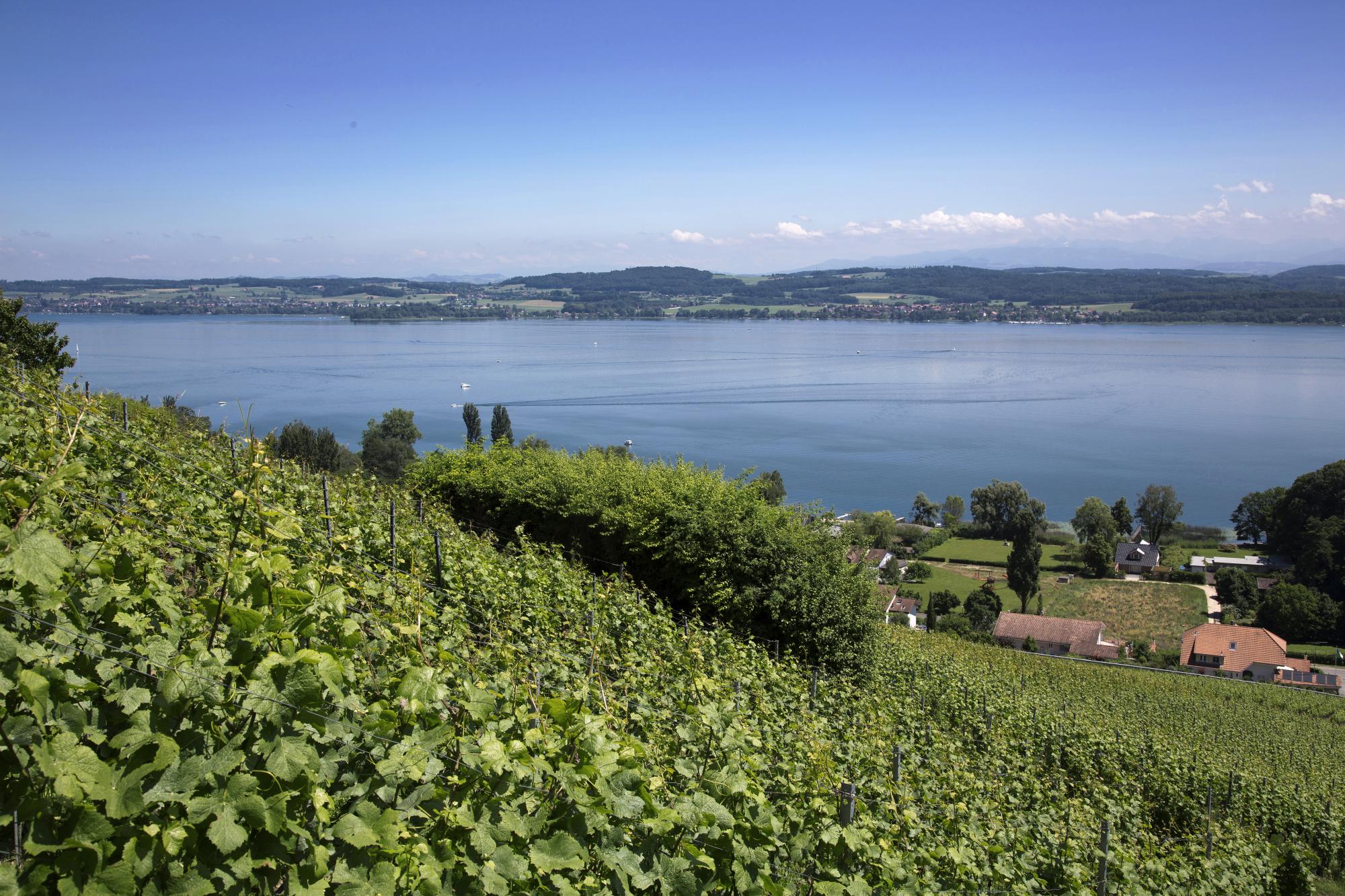 Vully, an intercantonal AOC
The mountain of the same name rises between Lake Neuchâtel and Lake Morat. The nearly bilingual AOC wine region on the hillside lies between the cantons of Vaud and Fribourg. It enjoys a Mediterranean climate between the Jura and the Swiss Alps. Vully AOC is the only intercantonal AOC. It covers an area of 375 acres, one third of which lies in Vaudois lands. Although Chasselas and Pinot Noir are undoubtedly its main varieties, the region offers unexpected specialties such as Merlot or Gamaret reds, and Freiburger and Gewurztraminer whites. A wine tour in the region brings you in contact with its talented winegrowers. Be sure to take a gourmet break! Be tempted to taste the famous "Vully green asparagus" and the "Vully cake" that comes in a savoury and sweet version.